New Delhi, July 24
Faced with the worst drought situation in 12 years, the Centre today announced a multi-pronged package to tackle the situation.
The package involves extension of the Calamity Relief Fund to all farmers, postponement of debt recovery from farmers, payment of the outstanding Rs 1,000 crore to cane growers and extension of the deadline for making claims under the Crop Insurance Scheme.
Making these announcements after taking stock of the situation at a meeting with the Agriculture Ministers of the 11 drought affected states, Union Agriculture Minister Ajit Singh said funds under the CRF would be made available to all farmers in drought-affected areas, irrespective of the size of their farmland.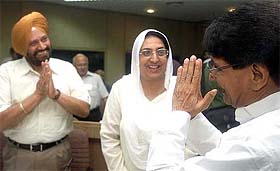 Union Agriculture Minister Ajit Singh with Punjab Agriculture Minister Rajinder Kaur Bhattal at the State Agriculture Ministers' conference in New Delhi on Wednesday. — PTI photo
Under normal circumstances, farmers with a minimum of two hectares of farmland are eligible to seek assistance from the CRF.
"The worst drought in the past 12 years has gripped the country. About 320 of the 524 districts in the states have been hit by the dry spe1ll", Mr Ajit Singh said.
He emphasised that the assistance announced today was only an interim relief and would be finalised after taking stock of the ground situation in an extensive manner.
Besides, the deadline for staking claim under the Crop Insurance Scheme would also be extended on a case-to-case basis.
He said given the huge stock of foodgrains, a major upsurge in prices would not take place and consumers were unlikely to bear the brunt of an upward price movement in essential commodities.
Mr Ajit Singh, however, refused to offer any projections on the farm output but observed that the water table in most affected areas could get further depleted.
The government is in the process of making blueprint of relief measures, identifying specific affected areas and working out possible solutions. He said providing adequate supply of seeds to farmers was the priority of the government. Mr Ajit Singh said teams would be sent to the affected areas to procure data and work out the modalities for providing assistance.
Punjab Agriculture Minister Rajinder Kaur Bhattal demanded a Rs 100-crore Central assistance to mitigate the problems of the affected farmers.
Orissa, where 28 of the 30 districts are affected by drought conditions, demanded Rs 500 crore and 3 lakh tonnes of foodgrains, state Agriculture Minister Amar Prasad Satpathy said.