Friday, July 26, 2002, Chandigarh, India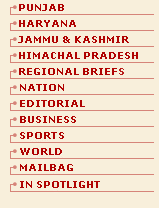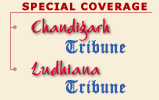 J A M M U & K A S H M I R
Lashkar operating under four names
BSF chief briefed by commanders
Jammu, July 25
During his first visit as Director-General, BSF, to Srinagar today, Mr Ajay Raj Sharma was briefed by senior officers and field commanders on the disturbing trends in the Pakistan-sponsored proxy war in the Kashmir valley.


1 killed, 18 hurt in J&K blast
Srinagar, July 25
At least one person was killed and 18 were wounded, some of them critically, in a grenade blast at the general bus stand of Batmaloo here today. Elsewhere in the state, two Jaish-e-Mohammad militants were killed and another surrendered since last evening.


Army soldiers help an injured Kashmiri after a grenade explosion in Srinagar on Thursday. — Reuters
In video (28k, 56k)
Governor's rule in J&K put on hold?
July 25, 2002
APHC undecided on leader
July 24, 2002
Separatists divided over poll
July 23, 2002
No poll deferment, says Farooq
July 22, 2002
NC leader among 8 killed
July 21, 2002
CM backtracks, to contest poll
July 20, 2002
Migrant Property Act to cover Jammu too
July 19, 2002
Jaitley's appointment a 'gimmick'
July 18, 2002
Trifurcation demand a conspiracy: Farooq
July 17, 2002
J&K poll may be put off by 6 months
July 16, 2002