SOCIAL MONITOR
Advertising gender bias
Neelu Kang
A PAIR of tiny scissors held by a male hand cuts apart criss-cross strings of a woman's back, undressing her. The visual is quite often seen on popular TV channels. The scissors is one of the attachments of an army knife offered free along with a deodorant for men.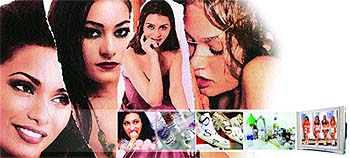 A man and a woman cling to each other, woman's head sunk in his chest, visible is a woman's long nude back with four horizontal strings and a pair of mail hands playing it as a bass/cello. This advertisement is of a music store.
Agreed that advertising is a necessary instrument for business to operate and economy to run. How these imaginaries in visual and print media use and project women does unconsciously affect people's mind, needs to be addressed.
All advertisements, by and large (mainly on TV), depict sports, work situations and the outside world as focus of man's existence and kitchen as a woman's world. Hardly is a woman shown as an equal partner, who is employed and is a person of her own will, e.g., in advertisement of a cigarette (in newspapers) mainly consumed by men, man is shown as a distinctive business personality with a female looking at him admiringly.
The visual of a shampoo on television brings about a woman's desire to get mere sapnon ka rajkumar as if this is the only goal she has. One of the texts of Amway products in the print media reads: 'You will find me in the praise of proud husbands'.
Reinforcing gender roles, these representations project a modern housewife who is fast, active, intelligent, confined to the home but commanding the kitchen. She is a caring mother, loving partner, devoted wife, ideal daughter-in-law whose happiness ranges around the health and happiness of her family. This woman, in one package, advocates the image of Sita. Above all, she is a smart buyer. Through these representations, a woman is announced as a homemaker, whether it is cooking oil (Sweekar cooking oil where she is referred as home manager) toothpaste, hair oil, detergent, electronic gadget or automobile.
"Not only do these advertisements reinforce stereotypes but they are also far from real conditions of existence", maintains Jaya, a college lecturer. Not close to reality, women are shown in a neat environment with done up hair. Even while being confined to bed by pain or illness, a woman is dressed in a traditional costume as in the ad for the ointment for pain. All beauty products like creams, shampoos, lotions and soaps highlight woman as healthy, fair and beautiful. The gap between the real and these representations does not reflect on any other aspect. On the extreme end are models, particularly in the print media, shown as new generation ultra modern women waring scanty clothes, breaking all rules and thus expressing a sense of freedom. "These 'imaginaries' are there to befool people and create a false world of beauty," says Tanu Anuja, a doctor by profession.
These representations have made beauty a pressure for women. After all what is this beauty and for whom? Many women have internalised the belief that their job is to please men and these standards of beauty, they do not realise, are set by men. The media has used this concept of beauty for commercial purposes. Not only does it increase competition among women who can afford all the products but also creates a complex among those who are unable to possess these. "A woman becomes victim of incompleteness and feels that if she does not look like models, some thing is wrong with her. She feels guilty", says Sujata, a college student.
Feminine charm and sex is projected to boost the sale of products. Almost every advertisement of sanitary ware in prestigious magazines use the female body. One such advertisement, of a large photograph of woman in her two-piece costume on a beach accompanied by the next, which reads 'looks so tempting, you wouldn't mind fishing out extra money'. Though the product is more important and she is only a secondary object, but still her body is highlighted to enhance the face value of the advertisement. Instead of showing the model cleaning the bathroom (which she actually does) she is there only to attract the attention of readers.
Scrutiny of the text and its relation to the image in all reveals commodification of women. She is brought on a par with the commodity and creates an impression that she is for the consumption of man. What is dominating in the advertisement is the model and her looks and not the phone. A model in her soft blue neckless skirt endorses her confidence and freedom through possession of a mobile phone. In another newspaper ad of the same product, one woman holding the mobile is dancing to glory surrounded by six men adoring her. Her presence is there only to increase the visual appeal of the advertisement.
Postures and expressions of female models in many advertisements nearly lead to eroticism. In another advertisement one finds a woman whose bosom is covered with merely a strip of cloth. The advertisement is vague, the idea silly and there is no clarity of concept. One assumes from the pair of scissors (the only thing next to woman's image) that it could be about opening of a grand showroom in Ludhiana. The pleasing smile of the woman seems to be soliciting that nude is in vogue. Another ad of the same shop has a nude woman with few glitters covering her private parts. Visuals of Swarovski crystal jewellery and carbon accessories are equally provocative.
Not only big companies but even local and small business entrepreneurs feel that advertisements of their products are incomplete without a woman, e.g., visuals of a photographer's studio, wristwatches and bedsheets etc. The commercial slot of underwear and vests for men on TV has nothing to do with women but still a woman is a must in them. All shampoos and soaps are used by men and women both, but exclusively women using these products are depicted.
Besides commercial slots, some programmes on TV also use women is a wrong way. For instance in Khulja sim sim on Star Plus all the products won in Darwaja number 1, 2 and 3 are displayed along with a tall, slim woman usually in a tunic or blouse. When the Darwaja opens, this attractive young lady is the first one to catch the viewers' attention and is made to stand there just to enhance the beauty of the whole show. She does not utter a single word and silently points to the products with a broad smile.
There are many commercials where women do not appear at all, for examples in ads of Calcium Sandoz (haddion ke jaan, winners ki pehchan) Dabur Chawanprash, Sona Chandi Chawanprash, Parle ji biscuits, Kisan Jam etc. on TV. Boys are shown engaged in physical activity outside home (as if girls are not suited for adventurous activities). These ads clearly demonstrate a gender bias. Browsing through magazines like Health would reveal that products of MNCs like Nestle's milk powder with honey, Nestle cerelac (mere ladle ko chaiye poshak tatv sahi matra mein) etc. show only a baby boy and not a baby girl. All these products claim to have vitamins, proteins and calcium etc. for growing children. But absence of girls in these ads projects that a girl child does not require strength and energy. Even the ad of Linc pen on TV displays a boy student in boys' school. It ends with the slogan "encouraging literacy" (perhaps only for boys).
We have to understand the whole scenario in a commercial framework, that is understand the close relationship between industry and the media. The issue is related to these questions: To whom does a particular advertisement speak? To whom is it addressed? Who controls the media, sponsors the ad and who benefits from it? It is true that consumer capitalism depends on the continual production of novelty of fresh images to stimulate desire but at what cost?
The debate can be extended to the male projection as well perpetuation of sex-specific roles and stereotypes. Even a cursory survey reveals how the representation of women is much more distorted than that of men when it comes to advertisements.