Monday, July 29, 2002
Feature
Of computer & new society
Camgirls give new dimension to paedophilia
David Rowan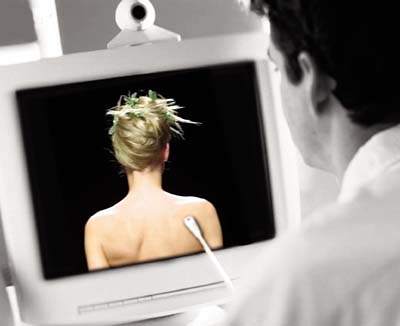 KERRY was sent £ 70 ($ 105) worth of apparels last week, bought at Playboy's online store by a man she had never met. The same day, she received a £ 45 cheque at her home in Lancashire, northern England, to pose at her Webcam "and do absolutely nothing."
In the 10 months since her personal Website went live, its sultry photo galleries and provocative 'livecam' shots have brought Kerry so much attention - and gifts ranging from lingerie to CDs — that she now plans to build a premium 'members' area' that she hopes will earn her a full-time living. First, though, she has her exams to worry about — for Kerry, one of Britain's growing number of Internet 'camgirls,' is a schoolgirl aged 14. As technology becomes ever cheaper and Internet companies vie to offer free Web space, thousands of children are chronicling their lives on intimate personal Websites.
But some young girls are taking these most public of diaries a stage further and posing in their bedrooms for prurient Webcam photographs that they use to persuade strangers to buy them gifts. Although many children simply point visitors to their `wish lists' on shopping sites such as Amazon, The Observer has discovered that a number are actively soliciting gifts with the promise of more revealing photographs in return.
It is a disturbing trend that has become established among Britain's teenagers only in recent months. Senior police officers expressed dismay after an Observer investigation uncovered some of the wish list 'trades.' Most worryingly, the majority of young British camgirls we contacted said their parents were unaware of their online activities and a few seemed to understand the risks inherent in these dubious online transactions.
Although the girls do not give their addresses — and Amazon wish lists state only the area the gift is being sent to — databases of Website owners and their addresses are in the public domain.
Len Hynds, head of Britain's National Hi-Tech Crime Unit, said the force was unaware that such sites were now operating in the UK until The Observer detailed six which appear to be run by 14- to-18-year-old girls from English counties including Durham, Essex and Dorset. 'It's a worrying trend, and clearly something we should be getting a more accurate picture of,' Detective Chief Superintendent Hynds said. 'Paedophiles are very good at grooming children in chatrooms, and I'd be very surprised if paedophiles weren't aware of these sites.' By providing photographs and encouraging strangers to provide gifts the girls were placing themselves at severe risk, he said. In the USA, where child murders and rapes have been linked to relationships struck online, the camgirl phenomenon has prompted renewed concern among law-enforcement agencies. Last week, a month after a 13-year-old Connecticut girl was strangled by a man she allegedly met online, the popular Felicite.com gift registry — based nearby — shut down 100 wish lists that it found were linked to teenage camgirls' Websites.
Some of those sites, The Observer has discovered, belong to schoolgirls in Britain, including one - apparently owned by a high school student from Surrey, southwest of London — that promises 'special pictures' in return for gifts. Hynds fears that some salacious sites may be fronts for organised crime, although our research offered no reason to make such a link with the Surrey schoolgirl's site, which carries adverts for hardcore adult sites.
Fourteen-year-old Kerry, one of a number of British camgirls who agreed to discuss their experiences via e-mail interviews, sees her site as a 'bit of fun' that happens to attract gifts in the mail. 'It's shocking what people buy you for nothing, it really is,' she reflects. Her Web site includes 56 photographs of her striking model poses in various skimpy tops, revealing nothing more than a pierced navel or a flirtatious kiss.
But what sets Kerry's site apart from the typical schoolgirl's are the links she trails from her front page to adult sites that pay her for referring new subscribers. And not only does she trail other sites but last week, she says, she received a cheque for $ 80 from Cam Girls Gone Wild, where paying visitors can see her 'bikini photographs.'
Other teenage camgirls contacted by The Observer chose not to let their parents even see their sites. Not surprisingly, none was prepared to put us in touch with her parents. 'I refuse to provide them with the (Website) link, as it serves its purpose as a place for me to share my thoughts and feelings,' explains Alexa, a 15-year-old from Northamptonshire.
'Knowing they were reading them would only make me hold back. My parents don't often ask too many questions about my site.' But she pays the bills by linking prominently to adult sites. 'It does bother me that some sites I have to link to in order to fund my site are so upfront about making money from young girls, but I have no other way of paying for my domain.'
And her Amazon wish list? 'The main persons who'd buy things from there would in my experience be middle-aged men with too much time on their hands. I'm not going to lie and say I wouldn't like people to buy me something - doesn't everyone want something for nothing?'
But what about the risks she is running by exposing her personal details through her site? 'The whole stalker thing does worry me,' she admits, 'especially one guy who took pleasure in relaying to me my home address, and saying the last time he was here it had snowed. But the one or two perverts or weirdos are by far outnumbered by the genuine, kind, caring visitors.'
Still, in a recent diary entry Alexa announced that she was taking down her Webcam for being 'more trouble than it's worth.' Instantly her message-board sprang to its defence. 'If you did,' wrote one regular, 'I would not be able to get a glimpse of pure beauty every day.'
Kate, the high-school student in Surrey, offers 'personal rewards' in exchange for gifts. 'I do offer to send people "special pictures" if they buy me something,' she admits. 'They don't show anything more than you'd see me in at the beach, but I suppose they like the idea that they have their own personal pictures. I also chat to quite a lot of men online who have seen my pictures - I usually do steer them in the direction of my wish list. I'm 18 but I've told men that I'm as young as 15, and they still buy me stockings and other stuff and ask to see me in them. The guys are looking for a fantasy girl, I play up to it. They get their fantasy, I get profit.' Kate has not told her family about her site. 'I don't count it as "me," she explains. "I'm a normal girl offline, nobody would ever guess that I do this. My boyfriend does know — I always run my pictures past him. He knows that I'm just trying to earn money. Of course I've thought about stalkers, but ultimately I'm in charge of what people know about me. I don't show full shots of my face, and I don't give out too many details about myself, like what school I go to."
Last week, however, Kate's lingerie wish list was one of those shut down by Felicite.com. "It's DIY pornography, basically,' explains Hans Xu, in charge of the company's marketing. "For £ 50 they can set up their own porno site and publish to an instant global market. It's frightening."
In May, Xu's point was proved when police in nearby Greenwich, Connecticut, discovered the body of 13-year-old Christina Long, who police allege was killed by a 25-year-old man she met online.
"What kind of parents lets their daughters get involved with this?" Xu says. "It starts out very innocently. The girl sets up a site, the guy e-mails in saying you're beautiful, and then he starts sending them gifts. It's really sick to see guys taking advantage of underaged girls like this."
"It was a real eye-opener for us, since it was the first hard evidence we saw that girls were exchanging pictures for gifts," Xu says.

"Paedophiles and child molesters are always interested in finding new persons they can make contact with, and that can start with a simple e-mail. A good parent ought to make sure they know what their children get up to online." — By special arrangement with The Observer, London.