M A I N N E W S
No troop withdrawal till J&K poll
Rajeev Sharma
Tribune News Service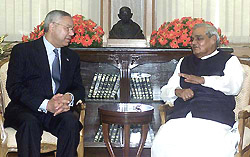 Prime Minister Atal Behari Vajpayee with US Secretary of State Colin Powell at his residence in New Delhi on Sunday.
— PTI photo
New Delhi, July 28
India today categorically told the USA that the forthcoming Jammu and Kashmir Assembly poll, due this October, would be a "litmus test" to judge Islamabad's intentions and until the peaceful, sabotage-free completion of these poll, New Delhi would not be withdrawing its troops from Pakistan borders.
India also made it clear that no further de-escalatory measures vis-a-vis Pakistan would be announced till Islamabad demonstrated its true intentions and did not meddle in or tried to sabotage the J&K elections.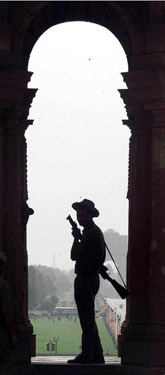 Security personnel stands guard during the New Delhi visit of US Secretary of State Colin Powell on Sunday.
— PTI photo

This was conveyed by the top Indian leadership to US Secretary of State Colin Powell who today met Prime Minister Atal Behari Vajpayee, Deputy Prime Minister L K Advani and PM's Principal Secretary and National Security Adviser Brajesh Mishra before leaving for Islamabad at the end of his 19-hour-long visit here.

Well-placed sources told The Tribune this evening that India placed "evidence" before Mr Powell about Pakistan's elaborate plans to sabotage the J&K poll.

However, it is not yet clear whether India's no-more-de-escalatory-measures-as-of-now stand also means that Mr Harsh Bhasin's appointment as India's new High Commissioner to Pakistan will remain in limbo till October.

The sources said the focal point of Mr Powell's visit to the Indian subcontinent was J&K poll as the Bush administration feared that any dramatic poll-related terrorist incident had the potential of pushing the Indo-Pak relations on the brink once again.

For example, a fresh attack on the J&K Assembly or an assassination attempt on the lives of the state's important political leaders could bring the Indo-Pak relations back to where they were after the terrorist attack on Parliament on December 13.

Mr Powell was at his diplomatic best and tried to convey a message to the All-Party Hurriyat Conference, New Delhi and Islamabad with his remarks on J&K poll at his press conference here this morning. While he strongly advocated the Hurriyat's participation in the coming

elections, he advised India to free "political prisoners" and allow "independent observers" to ensure that the poll was free and fair. As for Pakistan, Mr Powell stressed that Islamabad must not do anything to disrupt the J&K poll.

Meanwhile, the visiting US Secretary of State, Mr Colin Powell today caused a diplomatic embarrassment to India when he said Kashmir was on the international agenda and advised New Delhi to free political prisoners and allow independent observers to monitor elections in Jammu and Kashmir.

At the same time, Mr Powell also asked Pakistan not to disturb the J&K poll and end cross-border infiltration. Addressing a press conference here early in the morning, Mr Powell said: "We also look to all parties to do their part to ensure that the upcoming elections can be held in safety and without interference from those who would like to spoil them, from those who do not wish to see peace and reconciliation. Kashmiris want to run or vote in the elections. And if they do, they should be allowed to do so, without endangering their lives."

Mr Powell, however, reminded India that "(J&K) elections alone cannot resolve the problems between India and Pakistan" and stressed the need for creating conditions for resumption of a bilateral dialogue between New Delhi and Islamabad.

Then came Mr Powell's remark that caused tremors in the Ministry of External Affairs here: "We are also looking to the future. It is time to get started on making regional stability permanent. Kashmir is on the international agenda."

In this context, he pointed out a remedy also. "We look forward to concrete steps by India to foster Kashmiri confidence in the election process. Permitting independent observers and freeing political prisoners would be helpful."

However, he did admit that infiltration was still continuing and Pakistan President Pervez Musharraf was yet to deliver on his promise. "It seems clear from the information I have that infiltration is continuing. And I think we must make every effort to end it. President Musharraf has pledged that he would end it, and would end it on a permanent basis and I look forward to discussing that in greater detail with him. I think it is important that the infiltration comes to an end so that we can create conditions that will allow a dialogue."

Mr Powell, who held talks with Prime Minister Atal Behari Vajpayee and Deputy Prime Minister L.K. Advani before leaving for Pakistan, also wanted India to take further de-escalatory measures. He said during his parleys in Islamabad with President Musharraf today, "I will be speaking to the Pakistani side to make every effort to avoid disturbing the poll." He said he would share with General Musharraf the information he received from Indian leaders on the infiltration levels.

Asked if the poll in Jammu and Kashmir would be representative if the Hurriyat Conference stayed out, Mr Powell said, "Elections should be free, fair and open and I would suggest that all should be allowed to participate if they are responsible participants who are willing to play by the rules."

Speaking about the Indo-Pak tension, Mr Powell said with the troops of the two countries standing on the border, India should take further de-escalatory measures while Pakistan should also take steps to "fulfil its promises" on curbing terrorism and checking cross-border infiltration.

He, however, maintained that the situation had "improved considerably in the past few months ... at the same time, tension is there. Much more needs to be done and the situation remains tense".