M A I N N E W S
Selling jewellery to run tubewells
Chander Parkash
Tribune News Service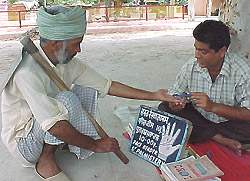 Will my crops survive, a farmer asks a fortune-teller in Bathinda on Sunday.
— Photo Kulbir Beera

Bathinda, July 28
While cash-strapped farmers of the state have started virtually begging money from commission agents and others for arranging diesel to run tubewells to irrigate their paddy crops as the monsoon has still been eluding this area and power supply is inadequate, commission agents and "sahukars" (traditional moneylenders) have not been lending enough money to them.

A major section of farmers have started selling their jewellery to generate cash to meet their expenses. Most of the farmers have postponed marriages of their sons and daughters.

Facing the worst, farmers have also been finding it difficult to find buyers for their tractors and livestock as their prices had fallen considerably. Small and marginal farmers have also been looking for buyers to sell their landholdings so that they could escape from debt. Most of them, who have been hit hard by weak monsoon, have started visiting fortune

tellers. Mr Ashok Dhunika, a commission agent of the area, while talking to TNS said today that two farmers of a village located near Rama Mandi came to him to sell their jewellery items so that they could get enough cash to arrange diesel for running their tubewells. He added that for the past 15 days, such trend had been catching up.

He said almost all commission agents who were liberal in lending money to farmers earlier, had not reduced the quantum of the lending amount anticipating payment defaults in case paddy and cotton crops failed due to absence of monsoon. The other factor, which the commission agents and money lenders had been taking into consideration, was that most of the farmers had suffered heavy losses due to about 25 per cent fall in the production of wheat last season.

Mr Rajinder Kumar, another commission agent, pointed out that they had to reduce the amount of lending as they had also been facing problems in mobilising money from market due to recession in general business activities. He added that apart from it, some of the petrol-station owners, where the commission agents were having their credit accounts and were making payments to them fortnightly, had stopped giving diesel to the on credit.

Mr Surinder Kumar, president, the local Arhtiya Association, said the commission agents had still been trying to extending maximum financial help to the farmers. He added that if the farmers got ruined economically, the commission agents would not be able to survive.

Apart from farmers and commission agents, pesticides and fertiliser dealers have also started feeling the pinch of absence of monsoon as the sale of both pesticides and fertilisers have gone down by about 25 to 30 per cent.

Mr Narinder Mittal, a fertiliser and pesticide dealer of this region, pointed out that in the absence of adequate sale, the pesticide dealers had started selling these at the rates less than the cost price.

Mr Amritpal Singh Brar, president, Punjab Young Farmers Federation, said farmers had been facing another bad year for their crops. Rise in cost of inputs as well as decline in production had turned the landlords of yesteryears virtually into beggers, he added.