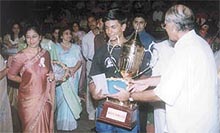 Aditya Puri receives the trophy in the Manav Sthali table tennis tournament.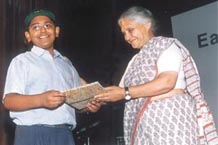 Teevrat Garg receives the award from Delhi Chief Minister Sheila Dikshit.



All concentration: Tiny-tots at a cultural workshop.
Manav Sthali tourney blossoms into a major event
Manav Sthali organised the 30th Smt. Chandravati Bhatnagar Memorial Table Tennis Tournament from the 19th to the 24th of this month. Lt-Governor of Delhi, Mr Vijai Kapoor was the chief guest and gave away the prizes.
President's Messages
Dr A.P.J. Abdul Kalam urged the students of Bal Bhavan Public School to aim big. In a meeting with the students, he said, "Dreams transform into thoughts and thoughts into actions".


Greetings for Kalam
The new President of India, Dr A.P.J. Abdul Kalam has struck the right chords with schoolchildren.


Inter-school Festival
St. Xavier's Sr. Sec. School is going to organise an inter-school Festival on the 29th of this month. The school's Principal, Father Xavier J. Ignatius, informed that almost 250 students from various schools in the Capital would participate in the festival titled - Interface 2002.


Extempore competition
Amity International, Saket, represented by Teevrat Garg of Class XI, won the second prize in the extempore competition organised by the Tata Energy Research Institute.


Questioning skills
Prof D. V. Sharma, Secretary, Council of Boards of Education, held a highly educative and interactive workshop on 'Enhancing Skill of Questioning' at Amity, Saket.


Workshop held
Preet Vihar-based cultural organisation, ILA, recently organised a workshop for the schoolchildren.

PRINCIPALSPEAK
No one can make you feel inferior without your permission
Mirror, mirror on the wall. Who is the fairest of them all?" The queen asked her mirror and was filled with bitter jealousy, when it told her that while she was fair, Snow White was fairer (Snow White and Seven Dwarfs).