THE TRIBUNE MAGAZINES
On alternate Mondays

On Sundays
On Saturdays

IN PASSING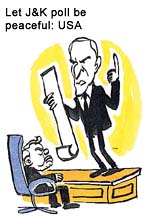 by Sandeep Joshi
Pervez's regret not enough: B'desh Oppn
Dhaka, July 30
Visiting Pakistan President Pervez Musharraf in his note in the visitor's book at the Mausoleum of the Martyrs of 1971 liberation war at Savar, 30 km from here expressed "regrets" for "excesses committed during the unfortunate period".
Osama alive, in Pak: George
London, July 30
Indian Defence Minister George Fernandes has said that "unimpeachable sources" had told him that Osama bin Laden, chief suspect of the September 11 attacks in the USA, was still alive.

Allow 8-hr sleep to Langah: court
Counsel permitted to meet him twice daily
Kharar, July 30
Mr Roshan Lal Chouhan, Judicial Magistrate, Kharar, today extended the police remand of Sucha Singh Langah, a former Minister for Public Works, Punjab, till August 1 and ordered that he should be produced before the court at 2 p.m. on that day.

Policemen have a tough time controlling the crowd outside the Kharar Judicial Courts Complex at the time of the appearance of former Public Works Minister Sucha Singh Langah in court on Tuesday. — Tribune photo Manoj Mahajan

Punjab page: Langah's 'torture': CM hits out at Badal
Missing school students traced
Ropar, July 30
All 35 students of Jawahar Navodaya Vidyalaya situated at Sandhuan village near Chamkaur Sahib, who fled from here yesterday, were traced at 7 p.m. today.

Editorial: A glaring failure


Selling tractors to make both ends meet
Jatana Kalan (Mansa), July 30
Even as moneylenders have hiked the rate of interest on loans, farmers have started devising ways to generate cash to make both ends meet. Tractor bazaars are being set up following huge losses.
Pak pumping in terror
July 30, 2002

No troop withdrawal till J&K poll
July 29, 2002

Krishan Kant dead
July 28, 2002

Ultras plan attacks in J&K
July 27, 2002

Kalam sworn in as President
July 26, 2002

Centre unveils package for drought-hit
July 25, 2002

No Central rule in Gujarat: Advani
July 24, 2002

Gujarat issue rocks LS, RS
July 23, 2002

Centre to impose Governor's rule in J&K
July 22, 2002

BJP asks Cong to clear stand on Gujarat poll
July 21, 2002

USA rejects Pak plebiscite demand
July 20, 2002

Kalam elected President
July 19, 2002