| | | |
| --- | --- | --- |
| | | |

ARTSCAPE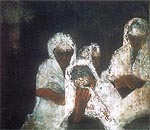 Sudip Chtterjee's 'Victim'.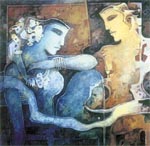 An artwork by Swapan Kumar Palley.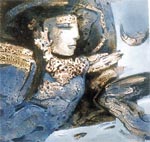 Asim Pal's workmanship.



'Structure' by Somenath Maity.
Giving woman's expressions voice on canvas
Art lovers had a unique treat last week. A group show, titled 'A Group Of Painters', at the Lalit Kala Academy showcased paintings ranging from the depiction of tribal women to capturing their various moods and feelings. The show included works of Anup Giri, Asim Pal and Swapan Kumar Palley. Anup Giri has focused his attention on the tribes of the Andaman and Nicobar islands. The daily life of the women in these areas has been captured magnificently by the artist. Also, the lives and daily routines of the women from Rajasthan and the Bastar region have been given equal importance.
Tribute to Shankar
'A Symphony of Dreams', an exhibition to commemorate Shankar's centenary year, is on display at the Lalit Kala Academy. K. Shankar Pillai, the founder of Children's Book Trust, was also a celebrated cartoonist, an author and an illustrator. He gave up cartooning and took to writing to pioneer the movement that has today given children an identity distinct from their parents.


Exhibition-cum-auction
A press conference was held by Osian's to announce its forthcoming curated exhibition- auction-publication, 'A Historical Epic: India in the making 1757-1950, From Surrender to Revolt, Swaraj to Responsibility'. The conference was addressed by Neville Tuli, chairman of Osian's, who is also the curator and author of 'A Historical Epic'.


Three phases of life
An exhibition of paintings by Sudip Chatterjee and Somnath Maity is on display at Shridharni Gallery at Triveni Kala Sangam. The artists present strikingly different artworks, which somehow add to each other's beauty. In Sudip Chatterjees' words, "Life to me is like a railway track wherein the three main pillars or stations are birth, sex and death. In my work, I have tried to highlight these three phases of life."


Five decades of Yash Chopra
'Yash Chopra - Fifty years in Indian cinema' by Rachel Dwyer is another addition to the numerous books written about an Indian film maker, Yash Chopra, by a foreigner, signifying the fascination our film industry holds for them.


Bhakti Sangeet
MRS Music Company has released its new cassette, 'Wah Re Jahan Tera Gorakh Dhandha', based on Bhakti Sangeet. Vipin Sachdeva and Ritu Singh have rendered the bhajans with lyrics by Suraj Malhotra and Mahavir Singh. The music has been composed by Virender Negi. The cassette has a total of seven bhajans.


Rich harvest of Austrian films for Delhiites
New Delhi, August 1
"Elektrische Schatten" (Electric Shadows), a festival of Austrian films, begins in the Capital tomorrow. The festival has been organised by the Embassy of Austria in India in collaboration with