WW: Tough Enough Vol.2 — Various Artists
(Universal) **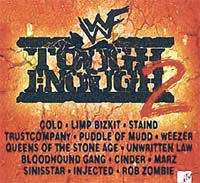 This is the first product release by the company, after WWF was sued by the World Wildlife Fund, that led them to drop 'F' from all their merchandise. These hard rock knocks provide enough musical mayhem to keep those testosterone levels elevated for weeks. The sequel soundtrack is yet another aggressive attempt by the WWE to match the aggressiveness of its supposed athletic soap opera, and for that, the compilation succeeds quite well. Kicking off the first track, Cold's growled injunction Gone Away sets the tone for the whole enterprise. This is agro-rock at its most belligerent, with buzzsaw guitars and riffs heavier than Rock's slam. Highlights include Limp Bizkit's Crushed, Queen of the Stone Age's anthemic Millionaire, Trust Company's aggressive Falling Apart and Unwritten Law's screamfest Dig. Weezer's Oh Lisa brings to mind the band's early days and is such a slice of old-fashioned head-banging raunch you just might want to scrub underneath your fingernails afterwards. A memorable dropkick from the music world.
Ashanti — Ashanti
(Universal) ***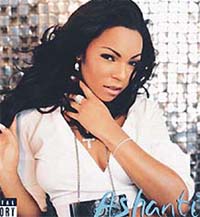 This self-titled and self-written debut opens with the hot debut single Foolish, which uses the familiar refrain from Notorious BIG's One More Chance. Ashanti's swooning, soft and at times whisper-delicate voice, reminiscent of the late Aaliyah, combine well with the mid-tempo melody of the track. Most songs on the album are very laid back and smooth, with beautiful effective piano and acoustic guitar tabs. Thank You is an impressive track where Ashanti shows off her vocal range. Movies has a Bone Thugs N' Harmony theme which is sure to become an R&B anthem. Baby borrows a P Diddy sample and reshapes it to perfection. Highlights include Scared, Voo Doo, Over and the headliner Rescue.
Album of the month
Enrique — Escape
(Universal)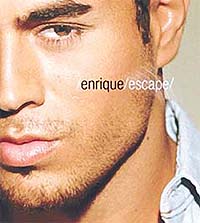 Latin singer Enrique Iglesias broke through into the US market in a big way with his self- titled album in 1999. He currently stands as the world's top-selling Latin artist. His second English album Escape is an exhilarating ensemble of soulful and up-tempo tracks that will swoon you and get you up dancing. The first released single Hero, is a gorgeous declaration of love with an equally steamy accompanying video.Enrique lays down technically perfect vocals on the dreamy ballad Maybe and experiments vocally on the Euro-pop influenced tracks. Three songs on the album are re-recorded in Spanish at the end of the album.The current hit Love To See You Cry is an album highlight packed with dance-friendly beats and slurpy lyrics.The album is romantic, it's sensual, it's stylishly charming, and it's handled well.
— Saurabh & Gaurav