Secret of good health
Grandpa was celebrating his 100th birthday and everybody complimented him on how athletic and well-preserved he appeared. "Gentlemen, I will tell you the secret of my success," he cackled. "I have been in the open air day after day for some 75 years now."
The celebrants were impressed and asked how he managed to keep up his rigorous fitness regime. "Well, you see my wife and I were married 75 years ago. On our wedding night, we made a solemn pledge. Whenever we had a fight, the one who was proved wrong would go outside and take a walk."
Swimming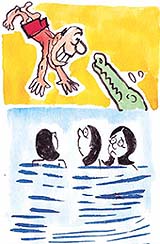 This fellow had owned this large farm for several years. He had a large pond. The pond was fixed for swimming when it was built. One evening the old farmer decided to go down to the pond as he hadn't been there for a while and look it over. As he neared the pond, he heard voices of people shouting and laughing with glee.
As he came closer he saw it was a bunch of young women skinny dipping in his pond. He made the women aware of his presence and they all went to the deep end of the pond. One of the women shouted to him, "We're not coming out until you leave!" The old man replied, "I didn't come down here to watch you ladies swim or make you get out of the pond, I only came to feed my alligators."
(Culled from the Net by Sunil Sharma)