Social monitor
Tales that "missing women" tell
For a country of our size, it is a pity that most of the healthcare planning for women is done on the basis of indicators for their reproductive health. There is hardly anything on record about their general health status to help formulate these policies. No wonder health facilities continue to elude women, especially in the rural areas, says Raman Mohan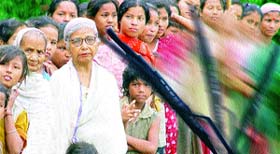 Maternal mortality rates in India are 100 times of what they are in the developed countries

NOBEL Laureate Amartya Sen once said that with its present population of one billion, India had to account for some 25 million "missing women". If western standards were applied, India too should have had about 105 women for every 100 men today. Thus, presently there should have been 512 million women in India. Instead, statistics show that there are only 489 million women in the Indian population today. This means that there are approximately 20-25 million "missing women" in India. Included among them are some who are killed inside the womb, and those who die because they are denied the opportunity to live.
A recent study by the United Nations revealed that women's groups and grassroots NGOs in many parts of India had found that the supposedly primitive practice of female infanticide was flourishing. Commonly reported methods to kill a baby girl include lacing their feed with pesticides, forcing down a few grains of poppy seeds or rice husk to slit their tender gullets, or stuffing their mouths with black salt or urea.In some regions, babies are fed the juice or paste of poisonous oleander berries. Yet others are suffocated with a wet towel or a bag of sand.
Female foeticide and infanticide alone have not left 25 million missing girls and women in India's population. Girls in India are subjected to discrimination in almost inhuman ways at every state in life. The UN-sponsored study found that "fewer months of breast feeding, less of nurturing and play, less care or medical treatment if they fall ill, less of special food, less parental attention" were the common forms of discrimination against girl infants. It is this life-long discrimination that is the real killer of girls. No wonder then that women in India have a much shorter life span than their counterparts in other parts of the world.
Presently, the average life expectancy of a woman in India is 63 years, compared to 83 in Japan. Of course we have come a long way in this field considering the average life span of Indian women in 1951 was just 32 years — just half of the present. Even within India, life expectancy differs from state to state.In Kerala, women live up to 75, while in Bihar and Madhya Pradesh a woman, on an average, lives up to just 57 years. It is only in Punjab and Kerala that women can expect to live beyond their sixties. In the rest of the country life ends for them much earlier.
Of every 1000 children born in India, 70 still die before their first birthday. The female infant mortality rate in the country is much higher than that of male infants. The UN study found that it was not poverty alone that killed baby girls — the choices made by her parents and family had a far greater role to play in curtailing her life. Custom and tradition shaped these choices and when resources were scarce, these could make the difference between life and death.It also found that baby girls were more likely to die in families where there was an older male sibling — strong circumstantial evidence of discriminatory care. The most important of these is the denial of education. Studies show that a few years of education of the mother can reduce the infant mortality rate by 40 per cent.
A woman continues to suffer even as an adult. One of the most common ailments among women is anaemia, a sure sign of lack of proper nutrition. This increases their chances of giving birth to underweight and malnourished children. Besides, ill-health and lack of proper medical facilities increase their chances of dying during delivery. It is therefore no surprise that nearly 300 Indian women die every day during childbirth or of pregnancy-related causes. This is roughly equivalent to one death every five minutes. More than 40 per cent of these deaths are in Uttar Pradesh, where there is a maternal death every minute. The study found that maternal mortality rates in India are 100 times of what they are in the developed countries, and significantly higher than in some developing countries like Sri Lanka, Vietnam and Cuba.
For a country of our size, it is a pity that most of the health care planning for women is done on the basis of indicators for their reproductive health. There is hardly anything on record about their general health status to help formulate these policies. No wonder health facilities continue to elude women, especially in the rural areas. Studies show that only 42 per cent of births in the country are supervised by health professionals. Most women deliver at home with help from fellow women in the family who have neither skill nor resources to save the mother should that be necessary.
According to the study, close to two-thirds of all deliveries in India still take place at home. The proportion varies from less then 35 per cent in urban areas to more than 75 per cent in rural areas. In states like Uttar Pradesh and Bihar, only about 15 per cent of children are born in a medical institution. There is a huge difference in the situation and prospects of an urban middle-class woman and a woman from a poor family in a village in Uttar Pradesh or Bihar. The urban woman is probably well-nourished, has been going to a doctor regularly for check-ups, and has been given anti-tetanus injections. She will deliver in a clean room with a trained nurse in attendance and a doctor within reach in case of emergencies. For her, delivering at home is a matter of choice.
The village woman, on the other hand, has a high chance of being anaemic and underweight, of not having seen a doctor and not being protected from tetanus. She would not have access to a doctor or hospital in her own village. For her, delivering at home, rather than being a conscious choice, is a consequence of her lack of choice.
Even when it comes to motherhood women have little choice when to have a baby or whether to have one at all. The choice is left to the husband and his assessment of his needs and his economic status. That's not all. Perhaps it will surprise you that even when contraception is considered necessary, it is the woman who is the sacrificial goat. Consider this—of all the sterilisations, female sterilisation accounts for 95 per cent. Add to this fact that as a method of contraception, sterilisation accounts for 75 per cent of all contraception methods put together. That should give you an idea of the fate of women, considering female sterilisation is generally more complicated than male.
All this boils down to the fact that even motherhood continues to kill women more than what may be considered as natural.
If Indian women have succeeded in doubling their life span in 50 years, they will surely take up cudgels for the missing members of their own sex.