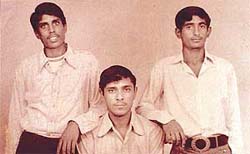 Born into a family of traders who had nothing to do with cricket, Kapil was brought up in Sector 16, Chandigarh. As his father set about re-building the family timber business, Kapil, the sixth of seven children fathered by Ram Lal, with the fierce determination of a native Punjabi set out to excel in cricket and later in business and in statesmanship. So, it was but natural that after having led a life sublime, the longest hurrah for him came in the form of the Wisden's Indian Cricketer of the Century award— an honour richly and fully deserved. His mother, Raj Kumari Nikhanj, could only weep in joy and thank the Lord for his many mercies. Kapil call from London triggered off another round of joyous tears.
Highlights ...
* 1978: makes Test match debut at Faisalabad, Pakistan.
* In the same series also makes his one-day debut at Quetta.
* 1979: scores the first hundred of his career in Delhi.
* 1979 in England, he takes his first five-wicket haul.
* 1981: he singlehandedly wins the Melbourne Test and fires the ambitions of the nation.
* 1982: he bowls and bats very well in the England Test series.
* Made the captain.
*1982-83: he takes on the mighty West Indies in their own land. The foundation of India's World Cup win is laid at Berbice, Guyana, where Gavaskar and he dent the pride of the Windies.
*1983: he wins the World Cup for India.
* 1984: he is dropped from the team for one Test at Calcutta. Interestingly, Mohd Azharuddin made his debut in the game.
* 1985: he is made vice-captain again.
* India wins the mini World Cup. Gavaskar relinquishes captaincy. Kapil is handed over the hot seat.
* Dramatic victory at Sharjah.
* 1986: he architects India's 2-0 victory over England.
* 1987: he is removed from captaincy as India lose the World Cup semi-final to England at Mumbai.
* 1990: he hits four sixes off four balls at the Lord's to save a follow-on.
* He takes a hat-trick in one-dayers.
* 1992: he completes 400 wickets in Test matches while on tour to Australia.
* Makes one of finest hundreds at Port Elizabeth.
* 1994: he overtakes Sir Richard Hadlee's 431-wicket mark.
* In November, bids goodbye to cricket.
Just two years ago in July 2000, allegations of match fixing had thrown Kapil's family, friends and fans in despair. The Punjab Cricket Association President, Inderjit Bindra, while speaking to the CNN had dropped the bomb. For Kapil's fans this was an explosion bigger than any carried out for the good of the country by nuclear scientists. Bindra claimed that Manoj Prabhakar told him that Kapil Dev was the man he had named in the bribery allegations. All hell broke loose in the media. In an interview to the BBC, Kapil Dev broke down and wept bitterly while protesting his innocence. No one could believe it. However, justice came to him when in November 2001 the Central Bureau of Investigation (CBI) exonerated him of all charges of betting and matchfixing. On the other hand, Manoj Prabhakar was found guilty.
Old timers have several stories to narrate about him. Today, a famous Kapil Dev comes in silently in his car and slips out before anyone knows about his presence in the city. But it is here that he is "Bhaaji" (older brother) to all and sundry. Former sports in charge of DAV Senior Secondary School, Sector 8-C, where the cricketer studied, V.P. Paul, says his first love was cricket. "He would listen to the commentary endlessly during school hours also. Kapil was a triple jumper and even won medals at the junior level in school," says Paul about this little known fact of Kapil's life.
Quite interestingly, the living legend, who is the only cricketer to have scored over 5000 runs and taken 400 wickets in Test cricket, did not play his first game of cricket till the age of 13. It all happened by accident. One Sunday, the Sector 16 team was one player short and Kapil was roped in. Later, his family encouraged him to take up the game seriously given his natural talent for it. His elder brother Bhushan Nikhanj, who was 3 years older to Kapil, gave him the biggest encouragement.
Cricketing guru Desh Prem Azad, known for his strict ways, recollects with a philosophical chuckle: " I had rejected Kapil at the first instance on his looks." Kapil corroborates the same in his book Triumph of the Spirit. He writes "I had a mop of unkempt black hair and someone could have easily mistaken me for one of the rough boys who had lived all their lives on the streets."
Kapil adds: " Mr Azad rejected me initially. He ( Azad) said I don't think you have what it takes." When Ram Lal Nikhanj spoke to Azad and assured him about Kapil, the lad was taken for coaching. Azad, akin to a master craftsman, soon realised that he had an uncut diamond at hand that needed polishing and fine chiselling. The bowling had rhythm and the batting could break reputations. Thus began a long unbroken partnership, which still continues as Azad churned out the brightest jewel from his stable.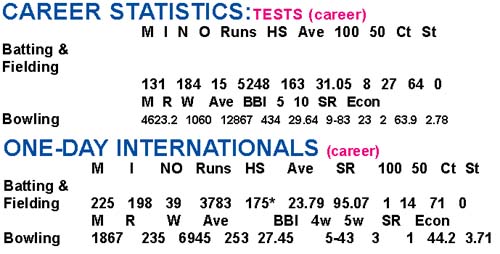 In early days, Kapil, like all players, participated in weekend matches. During the late 1960s and 1970s matches involving Pal Club and King Crown Club were the most keenly contested. At stake: the losers treated the winners to channa –puri at a popular Sector 27 restaurant. Kapil slowly become the epicenter of the matches, bowling fast and hitting powerfully, recollects Pawan alias Billu Manchanda of King Crown Club. Within three years, in November 1975, when Kapil was still two months short of his 17th birthday, he made his first class debut playing for his home state Haryana against Punjab. And what a debut it turned out to be as he got 6 wickets for just 39 runs. The same year, Kapil's father passed away. Kapil went on to take 7 for 20 against Bengal and 8 for 38 against the Services. These are still talked about as one of the best bowling performances in domestic cricket. Then came a minor heartbreak. Kapil was not selected to play in the final eleven of the Combined Universities team which played against Tony Greg's English side at Nagpur.

"He was hurt and this spurred him on towards greater success", says Azad. Kapil went on to make his debut in 1978 against the Pakistanis as the famed spin quartet was breaking up. Within three years a new star had been born, a man from Punjab who mouthed the famous advertising jingle Palmolive da jawab nahin even as batsmen struggled to find a jawab to his lethal outswingers. As he played his first games in international cricket, he reportedly modified his action on the advice of Sunil Gavaskar and started bowling from closer to the stumps to make his already lethal outswingers even more effective. It was later on that the famous Kapil -Gavaskar rift emerged and the media lapped it up as it gave good copy. Although Gavaskar had always denied that there was anything wrong between them, things were always at a boiling point between the two greats.
There was another Sunil in the life of Kapil, This was Sunil Bhatia, who introduced the star to Romi Bhatia, now his wife. During the India—West Indies Test match in Delhi, 1979, Kapil had invited Romi to watch the game. In the stands sat Romi and also the entire Nikhanj clan oblivious to each other. On the ground, Kapil scored his first century flicking Norbert Philips for a six to jump from 94 to 100. This is the only instance in the history of the game that a batsmen reached his first century with a six. In his book Triumph of the Spirit, Kapil writes he had fallen in love. It was in 1980 that Kapil proposed to Romi while travelling on a local train in Bombay. A hoarding along the tracks had a picture of Kapil recommending a newspaper. He asked Romi to take a picture of that hoarding so that she could "show it our kids." And, Romi, says Kapil only uttered "What?" The two got married with the eldest brother Ramesh Nikhanj giving the nod saying "If you have selected girl, why do you need my approval?" Chandigarh broke out into a bhangra. The Tribune then said "Romi hooks Kapil" to describe the marriage. For the uninitiated, the hook is a risky shot played off fast bowlers.
Kapil is the only cricketer :
* Who scored 5000 runs and took 400 wickets in Test cricket.
* To have completed his first century in Test cricket by hitting a six.
* To hit four sixes of consecutive balls. He did it at Lords in 1990, off the bowling of Eddie Hemmings.
* The only fast bowler to have claimed eight or more wickets in a Test innings on three occasions.
* Is the youngest-ever to achieve the Test double of 1000 runs and 100 wickets.
* To score 175 versus Zimbabwe, which is still among the top ten one-day scores.
In the eighties, he along with Ian Botham, Sir Richard Hadlee and Imran Khan vied for the top all- rounders spot and added the much needed charisma to the game. Kapil Dev was just over twenty-one when he became the youngest player ever to have completed the double of 100 wickets and 1,000 runs in Test cricket. He was rewriting not just history, he, with the ball and bat in hand, was penning down modern cricketing folklore. The unforgettable 175 not out against Zimbabwe at Tunbridge Wells in the 1983 World Cup is still talked about as the finest played by anyone in one dayers. India were 17 for 5 when the Haryana Hurricane – a sobriquet given by the media – went on to amass the huge score. It is fate that no television coverage was there at Tunbridge Wells that day.
In the same tournament, India and West Indies clashed in the finals. Sir Viv Richards was on a song. He hit a skier which should have gone for four. Kapil at mid-wicket ran backwards about 25 yards to hold the catch. The Windies were shattered. In walked the mercurial Clive Lloyd. He was also caught by Kapil. Soon "Kapils Devils" had done what was unimaginable— they had defeated one of the all-time great teams to lift the cup. Photographs of Kapil holding aloft the cup on the famous Lord's Balcony will remain etched in the memory of several generations of cricket fans.

Also at the Lord's in 1990, India needed 24 runs to save a follow on. Narendra Hirwani, a true number 11 who could not bat, accompanied Kapil. The great man did a calculation and came up with a plan that has so far been implemented successfully only by him. Four consecutive sixes off Eddie Hemmings did the trick. Similarly, his match- winning effort of 5 for 28 in the Melbourne Test of 1980 against Australia in which he bowled non stop for 3 hours against medical advice and skittled out Australia after taking painkilling injections for a torn hamstring and a pulled groin muscle was nothing short of a super human endeavour.
Immediately after winning the World Cup, the Windies were on tour to India. Lloyd, with his pride dented, vowed revenge. The Windies thrashed India 3-0 in the six Test series and they also won all the five one- day games. Kapil lost his captaincy. It was in this series that he turned out the best bowling performance of 9 for 83 at Ahmedabad.
Kapil through his awesome cricketing abilities saved India from many an embarrassing situation. His innings of 119 from just 138 deliveries against the Aussies in the first innings of the famous tied Test match at Chennai in 1986 helped save the follow- on.
Dr Ravinder Chadha, the first captain of Kapil in the Ranji Trophy, narrates a incident. It was Haryana versus Punjab in the 1981 or 1982. Rajinder Ghai had Kapil nicking at the ball and he seemed out. However, the umpire ruled not out. Kapil went on to score 193. At the end of the day, Ghai asked the umpire why he had given Kapil not out. The umpire replied, " Sabhi log Kapil ko dekhne aiyee hain, tumhe nahin." (The crowd has come to see Kapil Dev in action and not you). Ten years later, Kapil went on to lift the Ranji Trophy— Haryana's maiden triumph beating Bombay playing with Dilip Vengsarkar, Sanjay Manjrekar, Sachin Tendulkar, Vinod Kambli, Salil Ankola, Chandrakant Pandit. It faced a two- run defeat, the closest ever in Ranji Trophy.
In between, the greatest all- rounder had faced the humiliation of being dropped from the side. This happened after the second Test match in Delhi against England led by David Gower in 1984. Kapil top scored in the first innings with 67 when things were extremely shaky for the Indians. In the second innings, the side was in tatters once again. He smashed the first ball for a six and tried to repeat the dose off the very next ball bowled by Pat Pocock. India lost the match and Kapil was held responsible for the defeat. He lost his place in the side for the next Test match in Calcutta. His first stop after that was naturally Chandigarh, recollects Monish Aggarwal, a former Ranji Trophy player. " I was just 14 then and aspiring to play cricket when the great man arrived at the Sector 16 stadium after being dropped. A pall of gloom descended. He stood silently as his friends tried talking him out of it."
On the episode Kapil later wrote: "Disciplinary reasons, the selectors stated tersely. Little did they know of the discipline required to come back after a knee operation and the torture one has to put the mind and body through. The endless pain barrier one crosses." The man had spoken from his heart.
Emotions come easy to him. He went out of the way to help famous leg spinner Bhagwat Chandersekhar after the latter met with a road accident. In 1999, during the Kargil war, he was sitting on the front talking to soldiers and visiting the injured in hospitals.
Kapil was aggressive but never angry, says old friend Rakesh Jolly. On February 8, 1994, Kapil broke Sir Richard Hadlee's record by capturing 432 wickets. Relations between him and Mohd Azharuddin were never comfortable and deteriorated to such an extent that the Indian selectors reportedly held a private meeting to know when an ageing all- rounder will hang his boots. In November 1994, Kapil bid goodbye. He did not turn towards cricket till 1999 when he was appointed coach of the side only to resign an year later.
Nowadays, the great Kapil, also called KD, plays golf with a scratch handicap and wants to represent India in golf. His tee off goes to the longest drive at 300 yards at the Delhi Golf Club. May be, he is reinventing himself as another champion in yet another game.
Pictures: Kapil Dev - The Triumph of Spirit.