M A I N N E W S
Congress states cry foul
Say aid inadequate; Sonia to meet PM
Prashant Sood
Tribune News Service
New Delhi, August 4
The seven Congress-ruled states affected by drought today sought Rs 12,030-crore relief from the Centre, even as they complained of discrimination by the BJP-led NDA government.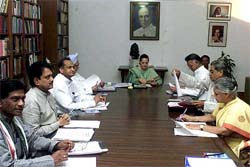 Congress President Sonia Gandhi presides over a meeting of Chief Ministers of Congress-ruled states on drought, at her residence in New Delhi on Sunday. — PTI photo

At a meeting with Congress president Sonia Gandhi here today, the Chief Ministers of Delhi, Rajasthan, Madhya Pradesh, Chhattisgarh, Karnataka and Maharashtra briefed her about the steps they were taking to meet the situation created by drought.
Mrs Gandhi will lead the six Chief Ministers to a meeting with Prime Minister Atal Behari Vajpayee tomorrow for seeking adequate relief for these states. Though Punjab was not among the states which attended today's meeting, its claim for Rs 800-crore relief will be included in the memorandum which the Congress will give to the Prime Minister. Punjab Chief Minister Amarinder Singh is abroad at present on an official visit.
Mrs Gandhi has also decided to set up a team, likely to be headed by Mr Y.K. Alagh, to assist the Congress-ruled states in the management of drought. The Congress governments have also been asked to institute all-party teams in their states for help in the relief work.
The Congress Chief Ministers said they were not in a position to tackle drought unless adequate aid was given by the Centre. Alleging discrimination, they said the BJP-led NDA government had a different yardstick for states like Andhra Pradesh and Haryana where relief had been given liberally. They said the Centre was also partial towards the previous SAD-BJP government in Punjab. Madhya Pradesh Chief Minister Digvijay Singh and Chhattisgarh Chief Minister Ajit Jogi complained that despite visits of Central teams in the past few years, relief had not been given to their states.
Comparing this year's drought with the one faced by the country in 1987-88, they recalled how the Rajiv Gandhi government had then tackled the situation on a "war footing."
Of the six states whose Chief Ministers were present today, Rajasthan has sought the biggest relief package of Rs 6,100 crore, which also includes amount for foodgrains. Rajasthan Chief Minister Ashok Gehlot said the state had been suffering drought for the third year in succession but the conditions were very severe this year. Karnataka has sought Rs 600 crore, Chhattisgarh Rs 2,100 crore, Madhya Pradesh Rs 700 crore and Delhi Rs 30 crore. Maharashtra, which also suffered floods in Thane district, has sought calamity relief of Rs 1,700 crore. Describing the drought as "unprecedented," Mr Jogi said crops could not be sown in 45 per cent of the cropped area, adding that even late rains would not be able to revive the crops.