Razzle-dazzle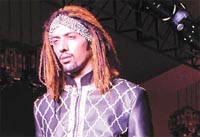 Haute coiffure.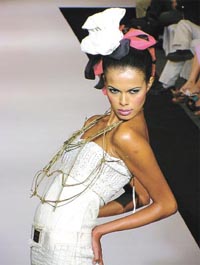 Callipygous charm: A model in Rina Dhaka's ensemble.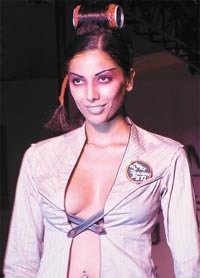 Ooh la la! A model in Aparna Chandra' collection.
If Aparna Bhargava on day one left you feeling blue, there was Rohit Bal to mitigate the effect. The LIFW has been a roller-coaster of the gawky and the practical, there was creativity and a little bit of absurdity (how else would you describe men who wore garish lehngas).
Models walking the ramp have been trying their best not to look tired. While some of them have been putting up a good show, some desperately need to catch more than catnaps.
The workshops on hair and skin care and make-up by Sunsilk and Lakme have been immensely popular.
Sunsilk presented the 'Sunsilk styles of the silver screen', a fashion show that showcased the styles sported by the silver screen actresses from the 60s to the present times. To the backdrop of the popular numbers filmed on actresses, models sashayed down the ramp in hairdos that matched the era.
While model Pallavi walked down in a Mumtaz bouffant, models Shamita and Tupur did a Rani Mukherjee and Kajol of the 'Koi Mil Gaya' number. Aditi Govitrikar looked smashing in a Madhuri Dixit hairstyle while Udita, Diandra Soraes and Angela presented the future trends as predicted by stylist Neeko.
As for the collections of various designers, there were hits and misses. The fashion show put together by the design house, Satya Paul, was appreciated. The show that began with a vocal recital by classical singer, Ustad Wasiffudin Dagar had Puneet Nanda, of Satya Paul on the Tanpura.
The collection was pretty and practical. From sarees to western wear, the collection comprised segments like the Bancha, Scribble and Avant Garde. The jewellery designed by the Satya Paul design studio was also innovative. The look created was easy and calm carried forward in the sarees, the churidaar-kurtas, skirts and dresses. Quilted silk suits in deep colours were also appreciated.
Deepika Govind's collection on the third day consisted of silhouettes teamed with fringes, asymmetric hemlines, darts, and slashes. She made extensive use of basic colours like red, black and white. Govind spiced up accessories using newspaper clippings on Khadi.
Vintage stuff, the waif look and tussled hair were inspiration for many. While Anjana Bhargava's 'Shakespeare in Love' collection had ample of the stuff so did Sonali Mansingka's 'Just Urban' collection. Light and breezy dresses with fine paisley prints and subdued shades were a part of many collections.
Rohit Bal's signature that of wild and bold was a refreshing change from the overdose of the peasant look that the audience was subjected to. What drew maximum attention was his ingenious use of antique silver anklets. Yes the fashion guru made a style statement by making his models wear the anklets on their heads. Some wore them around the legs as well, but the need we say what was more cool.
While most of the designers had western outfits on offer, there were hardly any besides Satya Paul, who cared to cater to those with a penchant for the desi stuff. Payal Jain for instance had more western garments, which she felt was in consonance with the mood of the modern Indian woman.
She however did not detest from using the Indian techniques like chikankari on capris and camisoles. Rich Zardozi embroidery and hand embroidery using crystals and sequins were also used by the designer to jazz her collection.
Skincare
The 'new-age product', from Unilever laboratories, arrived in the midst of the fashion extravaganza. Lakme launched two skincare products they claim are at par with international standards.
The unique 'triple-action workable' goes beyond the skin. These are the anti-wrinkle 'Lakme Forever Young' and the 'Lakme Strawberry Silk Crème'.
While the anti-wrinkle cream, with proof strips helps reduce the first sign of ageing its new technology, keeping in mind the Indian conditions, makes the cream the 'most innovatively researched product, to hit the market.
As for the Lakme Strawberry Silk Creme, it comes with real strawberry extracts for balanced moisturisation and is 'the ideal things' for a glowing skin claim the makers.
Songstress Shibani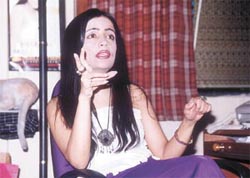 Chanteuse Shibani: Trying her luck in playback singing.
Pop singer Shibani Kyshap is all set to enter playback singing. In her debut film, 'Pal Pal Dil Ke Paas', she has sung a duet song with Plash Sen. In another film, 'Aisa Bhee Hota Hai' she has rendered her voice in three songs.
In a tete-a-tete with the NCR Tribune, Shibani informed that her latest album is 'Nagmagee'. Concoction of Sufiana form of singing influences all the songs of this video album. As she was very close to Begum Abida Praveen so this influence is quite natural, says Shibani. Even during the recording of the album Shibani regularly used to go to Nizzamudin's Dargah.
Shibani's mother, Poonam Kayshap, was very popular classical singer of her time. She had learned the classical singing for 18 years from Kirana Gharana. Shibani has learned so many things from her mother and she admits sound background of classical singing has helped her immensely in this field. Right from her alma mater DPS, Mathura Road, to her college, Lady Shriram, she was very popular, due to her extra-curricular activities. Her first album, 'Teen Age Queen' came in 1991, when she was a teen-age girl. But that album had received great response in all over the world.
In 1988, her second album 'Ho Gayi Hai Mohabbat', proved to be a super hit. Till date, it is one of the most requested albums on all major music channels. With this album, Shibani was established as a professional pop singer. After that in 1999, her third album 'Thori Thori Saanch', she gave the same chord. Very few people know the title tune of AIR FM, which has been on air for many years, had been composed by Shibani. In her spare time, Shibani likes playing guitar. She has recently been crowned as the 'Singer of Nation', by B4U Musical Channel, and 'Bharat Niram' award by Mayor of Delhi.
Seeing the interest of Generation X in this field, Shibani is toying with the idea of setting up a state-of-the-art musical studio-cum-institute, in Delhi. (Input by Nalini Ranjan and photos by Mukesh Aggarwal)