An 'institution' passes into history
M.S. Unnikrishnan
Mohammad Ilyas Babar was not the conventional sort of athletics coach Indians were familiar with. He was different, both in his coaching methods, and in his sartorial habits. Many mistook the kurta-pyjama clad, white-cap wearing Babar, for an illiterate, rustic "Mullah", the sort of person one encounters in the lanes and bylanes of the walled city.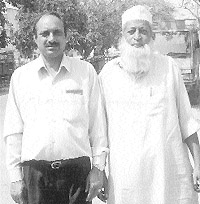 Ilyas Babar with his most famous pupil, Sriram Singh, photographed by P.K. Mahanand during the Veterans Athletic Meet in Delhi two years ago. This was the last snap shot of Babar, taken with Sriram Singh, before he shifted to Hyderabad.
But Babar was no rustic "Mullah". He was an educated, qualified coach, whose obsession with athletics was legendary. But only those who knew Babar closely knew Babar the man. He was a simple man, and led a spartan life. Simple living and high thinking was his motto. He practised what he preached, in letter and spirit.
But his coaching techniques and tactics were world class. No wonder, Babar was known as a coach with "Midas' touch", though he died a broken-hearted man when the people and institutions he trusted and believed in, betrayed him, in the evening of his career.
When Ilyas Babar breathed his last in Hyderabad last week, he was a ripe 76 years old. He had always kept himself fit, like a fiddle, as they say, and his unexpected demise came as a shock. Had the people in authority shown a little more compassion and consideration towards this venerable coach, Babar would have perhaps lived a few more years to realise his dream of producing an Olympic champion.
It was ironic that Babar died at the Nizam Institute in Hyderabad, in his home state of Andhra Pradesh, though throughout his career, Andhra Pradesh had given him the cold shoulder. But during the last days of his life, when Babar battled with stomach ulcer, the Andhra Pradesh officials went out of their way to help him. But the help was too little, too late, as it were.
Not many people knew that Ilyas Babar was a B.Com from the Osmania University in Hyderabad. He was also one among the first batch of coaches to pass out of the National Institute of Sports, Patiala, in 1961.
Babar started his sports career as a 110 metres hurdles State champion in Andhra Pradesh. He was State champion for a decade, and signed off his athletics career with the state meet in 1958.
But the late Ghous Mohammad Khan, the first Indian to reach the quarter-finals of the Wimbledon Tennis Championship, encouraged Babar to take up coaching in an honorary capacity at the Osmania University. And very soon, a reluctant Babar made his mark as a coach. He trained many talented athletes, one of whom was B V Satyanarayan, who represented India at the Rome and Tokyo Olympic Games.
At the university level, Babar produced players of the calibre of Saroja Gopalan, Nausha Thanwala, Aziz and P K Mahanand, the last-named becoming a university and state champion in discus and shotput. Mahanand went on to become a national weightlifting champion as well, and a Wing Commander to boot, in the Indian Air Force.
Though Babar was not very keen to pursue athletics coaching as a career, he ended up doing precisely that, starting with the National Defence Academy at Kharakvasla, where he coached officer-cadets. Many of his pupils rose to become Major-Generals, and one a Lt-General. They always treated Babar Sahib with love, affection and respect, despite their high-ranking. Later he took up an assignment at the Rajputana Centre at Farrukhabad, in 1960. There he trained athletes on sand, and produced Jagmal Singh, who represented India at the Rome Olympics, at the age of 40 years.
But Babar cut his coaching spurs, so to say, at the Rajputana Rifles in Delhi, where he persuaded Sriram Singh to switch over to 400 metres and later to 800 metres, though his first major champion disciple was B.S. Barua of Assam, who won a gold medal in the 1966 Asian Games. Barua gave full credit to Babar for his success, and thus was born the legend of Ilyas Babar.
Thereafter, it was a success story unmatched by any other coach in India. Babar produced five Arjuna awardees — B.S. Barua, Awtar Singh, Charles Borromeo, Sriram Singh and Geeta Zutshi. Among these athletes, Sriram Singh, Charles Borromeo and Geeta Zutshi also received the Padma Shree.
Even 'Flying Sikh' Milkha Singh had the greatest regard for Babar Sahib. Sriram Singh attributed his success in athletics to "Babar Sahib's focused attention, and scientific, yet rooted-to-the ground coaching methods". It was the searing pace set up by Sriram Singh, watched by Ilyas Babar, that motivated Cuban Alberto Juantorena to shatter the then existing Olympic and world records in the 800 finals at the Montreal Olympic Games in 1976.
Babar was voted the Adidas Best Coach of Asia in 1978, and was presented a golden shoe. Later the Dronacharya Award was also bestowed on him, though it came at the fag end of his life, at the age of 73. Babar was honoured with the Dronacharya Award, the highest sporting honour a coach can aspire for in India, thanks to the initiative taken by the late Union Minister Madhavrao Scindia and then Sports Minister Mukul Wasnik.
Babar produced an Asian champion — B.S. Barua — within three years of training him, and trained Sriram Singh closer to an Olympic medal, taking even less time. But sadly, Babar was never given his due. He was never selected as the national coach, and even the Rajputana Rifles shut the doors on him, when he sought a nominal raise in his retainership, after he won the Dronacharya Award. He went to Montreal to watch his pupil Sriram Singh run on his own, after selling his scooter and other house hold articles. He planned all the races of Sriram Singh though the official Indian coach was someone else. Sriram Singh went on to reach the finals of the 800 metres, setting an Asian Contintental record of 1m 45.77 secs, which remained an Asian record for 16 long years.
Babar was greatly influenced by the teachings of German world record holder Dr Otto Peltzer, and the training methods of Percy Cerutti. After Sriram Singh caught world attention at Montreal, Babar was hailed as a "world class coach". But he never put down his coaching methods in a book form for others to emulate. He also died without realising his dream of producing an Olympic champion.
Despite his high achievements, Babar was not given an Indian blazer. But he did not complain. He stoically took everything in his stride, even when lesser mortals slighted his high achievements, and Rajputana Rifles threw him out his quarters. He then shifted to Hyderabad, where he spent the rest of the life in virtual seclusion.
But his legion of admirers and pupils will always remember Babar as a coach with a vision, who was ahead of his time in his teaching methods.
And that itself is a great tribute to the man's legendary qualities.