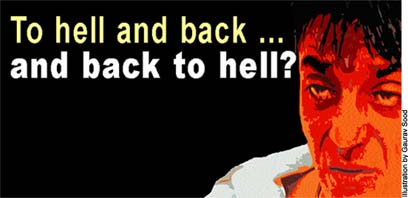 What is stardom without enigma, mystique, machismo, crazy capers and oodles of rebellion? Unfortunately, however, all these elements seem to be present in excess in Sanjay Dutt, making him a pathetic rather than a fascinating figure, says Amar Chandel.
Gangu Dakuís unusual transformation
A.N. Aggarwal
IT has been said that between a genius and a madman the difference is only that of a hair's breadth. One Gangu Daku (dacoit) was hounded by the police. He was a dreaded criminal during his time.
ZEROING IN ON...
The spirit-caller Shiamik Davar
Aditi Tandon
YOU donít feel like striking a conversation with Shiamak Davar unless you have probed into the meaning of his name. And you are happily taken aback when the star sounds excited about the question. "Names are meant to serve as extensions of identity.
TAKING NOTE
Entrusted with the care of the homeless
K.L.Noatay
EXTENDING compassion to a needy person is a heart-warming experience. The Shanti Alya Trust, a charitable group, has set up a home for orphan girls near Shimla with the above philosophy in view.