Unfortunately, all these elements seem to be present in excessive quantity and in wrong proportions in the personality of Sanjay Dutt, making him a pathetic rather than fascinating figure. That is why he has been courting more trouble in one lifetime than a mere mortal does in ten. The latest expose about his cootchie-cooing with dreaded don Chhota Shakeel is only the latest lightning to strike his lair. A normal person would have been shell-shocked, but Sanju Baba was celebrating his birthday the very next day, as if all that was happening around him related to somebody else.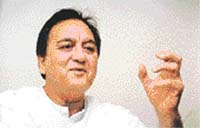 Was that a put-on bravado or is he plain stupid to be oblivious to the trouble he is courting himself and causing to all his near and dear ones? There can be no cut and dried, black or white, yes or no answer to this question, because peculiar circumstances have made Sanju Baba a highly complex ó and highly disturbed ó person, fit for a psychiatristís couch (see accompanying box).
His confidants describe him as a mere child in the huge muscular body of a 43-year-old. He appears to be genuinely incapable of comprehending the risks involved in his self-destructive capers. He is just not able to cope with reality at times.
Being in the film industry lets him hide all his inadequacies behind a blind of haughtiness. At the same time, the make-believe world of cinema has made him callous towards established norms. Psychologists call it superman urge. He still thinks that he can get away with blue murder. The fetish for guns and pistols borders on obsession. In other words, he seems to be trying to project his reel-life heroics in real life too.
A sensible person would have outgrown his childish irresponsibility and found his moorings long ago. Not so this spoilt brat whose parents were in the cine-world before he was born, and commanded tremendous fan following, respect and goodwill.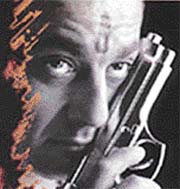 Despite being cine-stars, Nargis and Sunil Dutt tried to bring him up as a normal child but that was not to be. Children of celebrities get pampered tremendously and the same happened to Sanju also, despite Dutt senior being a strict disciplinarian.
One factor that might have had an undesirable but inescapable influence on his impressionable mind was the rumours floating around his mother and Raj Kapoor, despite the fact that the pair had broken up after Chori Chori (1956).
The failure of Reshma aur Shera (1971) almost ruined the Dutt household, putting Sunil Dutt in debt for an incredible Rs 35 lakh, an astronomical sum in those times. It was a habit with Nargis earlier to take out small change from the packet of every member every evening and put it aside. It was this money which kept the home fires burning for some time, till the creditors were paid off. Few know that Sanju had enacted a cameo in this film.
To keep him away from unsettling influences, he was packed off to Lawrence School at Sanawar (Himachal Pradesh) in the hope that the sylvan surroundings of the exclusive residential school would give him a firm grounding. Instead, the rebellious child developed a feeling that he had been abandoned by his busy parents.
The 150-year-old school is used to the VIP status of the parents of many of its wards, but the co-students could not be expected to treat the only son of Nargis and Sunil Dutt as just any other schoolmate. He was The Boy to be befriended. Sanju kept most at armís length but did make some very close pals in school with whom his camaraderie continues till today.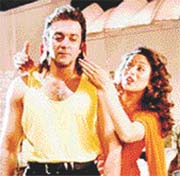 He was a head taller than his classmates and exceptionally handsome. That made him quite a rake. He had a clique of close friends whose youthful exuberance was not exactly expended either in studies or co-curricular studies. His group indulged in many a mischief but it would be wrong to see in those the shape of unwanted things to come because such pranks are quite natural in almost all teenagers.
On returning to Bombay, it was again a plunge into a vacuum, which Sanjay tried to fill with endless video games, violent fights and threatening his neighbours with an air gun. His sisters doted on him but could not keep him out of troubleís way.
The news that Nargis had cancer shattered the family. Sunil Duttís vain but glorious attempt to save her while at the same time maintaining a smiling visage is a profile in inner strength. Young Sanju also made a brave attempt to hide his emotions but inside he was all jelly. The death of Nargis on May 3, 1981, was a bodyblow to the family and millions of fans but that day Sanju was so high on drugs that he was just not aware of the irreparable loss that he had suffered.
The Lady in White passed away just a few days before the launch of his debut film, Rocky. The film made by his star-father for him was his entry ticket to a glitzy world of fantasy, songs and pretty damsels. It was followed by the failure of many of his starrers and this roller-coaster ride was to continue all along. If the marriage to Richa Sharma was the return of happy days, her ordeal by cancer again stung him raw. Later, he tried but failed to get the possession of daughter Trishala. She now lives in the USA and he visits her regularly.
His recourse to drugs was traumatic for the family. As is well-known, cocaine and brown sugar put a vice-like grip on the victim. What started as a diversion soon turned into a habit.
Many thought him to be a gone case, but he displayed a steely core and kicked the habit in 1986 after he was packed off to a rehabilitation centre in Europe. Not only that, he devoted his energy to body building and today happens to have one of the most sinewy physiques in Bollywood.
He changed girl friends regularly after that ó Tina Munim, Madhuri Dixit, Rekha, Kimi Katkar and more ó to finally wed Rhea Pillai. It is surprising that even her spiritual leanings (she is a teacher with Art of Living) hasnít been a stabilising anchor for Sanjay, and he continues to be as unpredictable as ever.
The dopey days are a thing of the past but the drugs have left a debilitating influence. He has a "devil may care" attitude and just does not react normally to a situation.
A childish fascination for weapons brought him in touch with the underworld and his subsequent incarceration under TADA. He was arrested on April 19, 1993, accused of conspiracy in Mumbaiís serial bomb blasts of March 12, 1993, which killed 257 people and maimed 713, besides damaging property worth Rs 300 crore. Then followed a 15-month-long nightmare filled with public scorn, mudslinging, a dingy jail cell, courtrooms and, finally, release on bail. He is hard put to fend off the allegation that he not only possessed three AK-56 rifles but also had 750 magazines and 20 hand-grenades at his bungalow in Bandra.
Surprisingly, his film career did not wither away. Instead, he gave some of his best performances after coming out of jail. Whether it has been Mission Kashmir or Vaastav, his roles today have a stamp of quality, although that does not deter him from accepting David Dhawan type of roles at the same time. Only he could have gotten away with the kind of hairstyles that he has sported. Interestingly, most of the roles he plays today are modelled on mafia dons with a heart of gold.
One would have thought that the jail term and the tremendous publicity that it generated would have made him sever his links with shady characters. But the tapes of his conversation with Chhota Shakeel presented before court in the Bharat Shah case show that he has continued to be on intimate terms with them.
What needs to be noted is that he hasnít even denied speaking to the mafia don, although Sunil Dutt has described him as innocent and alleged that the tapes allegedly recorded in the year 2000 have been released now only to discredit him (Sunil Dutt). He is the person about whom Sanju says: "There is only one person in the whole wide world who has stood by me, and loved me for what little I am worth. And that person is my dad, my only inspiration". As a father, he is expected to stand by his son but as a highly respected actor and MP, his defence sounds hollow.
Timing is not as relevant as the fact that Sanjay was in contact with such shady characters, despite being released on bail in the TADA case on the specific condition that he would not have any contact with the other accused.
Sanjay is a complex creature of complex circumstances. He is indefensible and defenceless at the same time. Abominable that his association with the enemies of the nation is, it has to be seen in the light of the fact that the bhais have a vice-like grip on the film industry and everyone wants to be on the right side of them, because crossing their path can be fatal. The police is hyper-active in nailing the associates, but has never been able to provide protection against the real dons. That is not an excuse for hobnobbing with the mob, but just a statement of facts. As Mahesh Bhatt, who directed him in Sadak, says: "The image of Gulshan Kumarís bullet-riddled body lying on the road has put the fear of death into the film industry".
Mumbaiís Police Commissioner M. N. Singh couldnít disagree more: "Fear is not responsible for all links. There are many friendly partnerships too. Some are using the underworld to promote their careers".
As far as Sanjay Dutt is considered, suffice it to say that Mr Hyde has a Dr Jekyl. His qualities of heart had made the film industry raise a hue and cry when he was arrested in 1993. But most of that goodwill has evaporated this time.
People closely associated with him still maintain that he is wayward and spoilt but not bad at heart. Unfortunately, underworld dons need just such people to carry out their nefarious designs. Sunil Dutt may differ but Sanjay Dutt is not in hot water because some people want to get at papa Dutt. Actually, Sanjay has escaped harsher punishment because he is his son.



Why this aberrant behaviour?
NOTED psychiatrist B.S.Chavan, Professor and Head of the Department of Psychiatry, Government Medical College and Hospital, Sector 32, Chandigarh, says that although he has not studied the Sanjay Dutt case is detail, it is obvious that professional counselling can do a lot of good to the actor.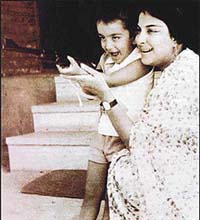 Nargis with her Sanju Baba
Referring to the aberrant behaviour of children from good families, he says they are driven by different urges. Some have anti-social traits by nature. They just do not respect laws and established norms of society. Chandigarh has a large number of such brats.
Those who have this trait in exceptional measure turn into an anti-social personality. They feel no guilt or remorse over their activities. They take to crime and turn into gangsters.
Then there are narcissistic personalities who have an unquenchable thirst for praise. Their in-built insecurities goad them to either associate with people who will pamper them or be seen with higher-ups so that everyone thinks that they have a higher station in life than they actually have.
High-sensation seeking people are slightly different. They go in for speed racing and flying stunts to have the adrenaline flowing. They are out for adventure. If they take a wrong turn, they may go in for drugs or show risky sexual behaviour.
Taking the crime path also becomes a coping strategy for some. While the average person may take the help of the police if he is threatened by a criminal, such persons prefer to seek the help of a bigger criminal instead.
The threat to oneís religion or community also forces many docile men to suddenly become criminals. This common cause gives them a sense of identity and a feeling of belonging. It is not necessary that such threat may be real. Even a perceived threat can sometimes trigger a violent reaction.
Some quit the straight and narrow path due to peer influence, others under the influence of drugs, and some just to give company to someone close to their heart.
Those who have to hide their real feelings while speaking in front of the public also have bottled up criminality inside them. Cinestars and politicians are prime examples. ó ASC