Sunday, August 11, 2002, Chandigarh, India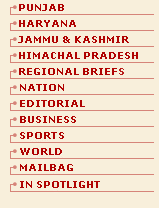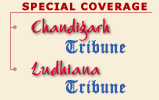 M A I N N E W S
Farmers resorting to canal water theft
Shubhadeep Chaudhary
Tribune News Service
Chandigarh, August 10
More and more farmers in Haryana are believed to be resorting to theft of canal water as a result of the drought situation in the state. Sources in the state government's Irrigation Department said that 1321 cases of water theft had been recorded since mid-June when personnel of the department had started patrolling in the vulnerable areas along with policemen to prevent possible resistance by farmers indulging in water theft. The sources added that 781 FIRs had been registered in this connection.
Talking to TNS, Mr Rampal Majra, Chief Parliamentary Secretary of Haryana, who looks after the Irrigation Department, however, claimed that the number of cases of water theft detected till date was proof of the state government's success in curbing the menace of canal water theft.
Irrigation Department sources, however, said that if the figure of water theft recorded by patrolling parties since mid-June was any indication, large number of farmers, in their desperation to water the cultivated areas, had been resorting to theft of canal water.
While explaining the water availability in the state, the sources said that Haryana was getting about 1500 cusec water less from the Bhakra as a result of drought. The flow of Yamuna water to Haryana had also got reduced by almost half of the normal supply. "Normally, we run four groups from the water available from the Yamuna. But now we are managing to run two groups only", they said. The sources added that as farmers were resorting to water theft in the upstream areas, it had multiplied the problems of farmers having lands at the tail-end of the canals who in any case did not get much water.
Figures collected by TNS shows that the Jind Irrigation circle had maximum number of recorded cases of water theft, followed by Karnal. While 453 cases were recorded at Jind, 326 cases were found in Karnal. Then comes Sirsa where 150 cases have been recorded.
The least cases were found at Faridabad (7) Bhiwani (11) and Hisar circle (44). Officials here said that water theft cases were more rampant in areas where paddy was grown which needed more water. Even though the underground water level in Bhiwani was much lower than that of Karnal, theft cases recorded in Bhiwani were less as there was hardly any paddy cultivation in the district, stated Irrigation Department officials here.