Given right input, dairying shall yield
Ranjit Singh
One of the viable options for diversification of agriculture is dairy farming. It can also help face the challenges posed by the WTO.


You reap what you sow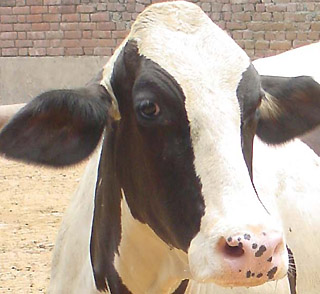 Ensure
Availability of quality breeds

Artificial insemination facilities

Health care and extension services

Availability of feed and fodder

Efficient marketing system
In spite of India's position as the highest producer of milk in the world, productivity per animal is very poor at just 987 l/ lactation, as against the 2038 l/ lactation world average. In the rural areas of Punjab, the average milk yield of desi cows (850 l/ lactation), crossbred cows (2750 l) and buffaloes (1800 l) is high as compared to the national average, but very low as compared to exotic breeds of cows (8000-10000 litres).
The potential from the available livestock in the state is 4500 l/ lactation for cows and 3100 l for buffaloes. Although there is significant increase in milk production in Punjab, yet there is a lot of scope for further improvement. Punjab being the best grain and fodder producing state of the country, is particularly suited for dairying. An advantage of dairy farming is that it can be practised from the smallest unit of one animal to tens of animals.
With proper selection of animals and efficient management, milk yield can be improved significantly. In order to identify various constraints and problems a workshop was organised at the Punjab Agricultural University under the EU-India Cross Cultural Innovation Network in which dairy farmers, university experts and representatives of state departments participated. It was agreed upon that the success of dairy farming depends upon the following main factors: i) availability of quality breeds; ii) artificial insemination facilities; iii) health care and extension services; iv) availability of feed and fodder; and v) efficient marketing system.
Support
At present it is very difficult for a farmer to find high-yielding cows. There is no agency or breeding farm from where one can purchase the animals. Moreover, adequate facilities for artificial insemination are also not available. Thus, farmers cannot raise their own herds.
Although Punjab is an agricultural state, sufficient green fodder is not available. The green fodder requirement of the state is about 90 million tonnes, whereas only 32 million tonnes is produced. The area under fodder can easily be doubled. Non-availability of seeds is one of the constraints. Quality feed is also not available. The government should encourage feed production, but with rigorous implementation of the feed quality law.
Milk quality
The quality of the milk produced also needs improvement. The main reason for poor quality is the time lag between milking and reaching the chilling centre. The more the time lag the poorer the quality. Milk chillers should be installed at collection centres in the villages. The Animal Husbandry Department mainly provides health services, whereas extension services to educate farmers in animal husbandry are almost non-existent. Strong and efficient extension, health and insemination services are required. Efforts are being made to organise dairy farmers' cooperatives, yet it is an unorganised sector. Most the farms operate at a small level, unable to make use of machines and modern management practices.
The genetic potential of high-yielding animals is not fully exploited as it requires adequate feeding and management of the animals right from birth. This requires adequate finance, which is always a limiting factor with most of the farmers. The rate of interest on dairy loans is 16.5 per cent, which is very high for farmers.
In a commercial dairy farming system with large herds, the machinery and animals need heavy investment. Experts, therefore, suggest that 50 per cent subsidy should be given to farmers for milking machines, frozen semen containers as well as the import of animals/ semen/ embryos.
Although there is a lot of improvement in marketing due to the efforts of Milkfed and private companies, yet much more needs to be done. The gap between the producer's and the consumer's prices is very high; at times the ratio is 1:2. Efficient management will not only reduce this gap but also both the producers and consumers will get relief. Farmers can get higher returns through increasing the per-animal yield as well as through remunerative prices.
Cooperatives
The concept of dairy as an organised sector was introduced with the establishment of the Dairy Development Corporation. Later on, the corporation was converted into Milkfed and organising farmers into cooperatives at the village level was initiated. Now dairy farmers are being encouraged to organise themselves into village cooperatives. In order to become viable units, village cooperatives have formed their unions at the district level. A union is able to provide various services like supplies, milk collection, processing and marketing. All the milk unions have further united under a joint umbrella like Milkfed so as to become a strong business entity to compete with other companies.
At present Milkfed is a major player and handles 35 per cent of the total milk production of the organised sector in the state. Its brand name Verka has not only established itself in the state, but also captured national and international markets. Two multinationals operating in the state have also established an organisational network by selecting contact dairy farmers. These companies help their contact farmers through various services, supplies and an efficient procurement system.
Cluster farms
Dairy farming should be developed on the cluster dairy farm model. In this model selected clusters should have at least 10 dairy farms with 10 or more cross-bred cows each, thus producing at least 100 litres of milk per farm and 1,000 litres per cluster. A milk chilling centre can be established for each cluster. These clusters have to be the pivot and focal points for providing training, feed, health cover, artificial insemination services, etc.
There in no chance of a market glut in the near future for milk. Milk and milk products can easily be exported, but the success will depend upon the organised efforts through cooperatives and private companies. It is only the organised sector that can face the challenges of the world market. The services provided by Milkfed and multinational companies have proved that dairying is a very successful and remunerative enterprise. Efforts must be made to improve the working of and strengthening the cooperative movement.