Is digital backup worth the effort?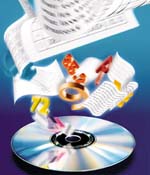 You can read centuries-old books, but not decades-old computer archives
by Dough Alexander
IN a dimly lit room in a monastery in Egypt's isolated Sinai Peninsula, a Texan monk is fighting to save history. The dusty library of St. Catherine's Monastery is the home to one of the world's most important collections of ancient manuscripts — some dating back 1,500 years. These include the Codex Syriacus, a 5th century Bible. Father Justin, using hi-tech photographic equipment and a computer, has dedicated years to reproducing these brittle tomes onto compact discs, to preserve them for future scholars. His work is admirable - but is it in vain? Chances are those CDs will be unreadable in a few decades, unless the world can find a better way to preserve digital information.

Confide in the car
CAN'T find a restaurant? Running out of gas? Down to your last dollar? Tell it to the car. International Business Machines Corp. said it signed a deal with Honda Motor Corp. that will make it easier for drivers to find the closest gas station or restaurant by asking the car's computer for help.


Rescuing Indian drugs
by Shiv Kumar
Come December and bio-pirates will find it almost impossible to re-engineer traditional Indian medicine formulations and patent these as original inventions. All patent offices will need to do is log on to the Internet and enter details of the patent application to find out if the applicant was beaten to the game a few centuries earlier. The first phase of an initiative by the National Institute of Science Communications (NISC) to compile a comprehensive database on Indian traditional knowledge is nearing completion by December.

Piracy worries India…
SOFTWARE piracy is one of the biggest concerns of many global and local software vendors in India. Piracy leads to users using the intellectual property of the vendors without paying commensurating price. According to IDC estimates, the money lost in 2001 from pirated software is estimated to be close to $ 245 million in India, which is almost half of the legal packaged software market.

User-hardware interface
by Sarabjeet Singh Kanwal
AN operating system (OS) is the first software you see when you turn on your computer and the last one when you turn the PC off. It is the software that actually manages the raw hardware, hence acting as an interface between the user and hardware. It directly operates on the hardware and fabricates an environment for the execution of the other programs.

Hi-tech check on illegal immigrants
by Achmad Sukarsono
MALAYSIA and Indonesia signed a pact on immigration technology but that could be as far as meetings among top officials go in formal agreements about the sensitive subject of illegal workers.

Divinity @ Goa
by Frederick Noronha
FROM sermons to software! That's the shift Silvan M. D'Sa wants to nudge churches in Goa into as he polishes his code that seeks to give the parish an IT thrust - and make it easy for priests to manage their funds and the faithful.

Polaris software for Singapore
POLARIS Software Lab Ltd., one of India's IT services providers for banking and insurance industries, announced the launch of its first back-up software development facility in Singapore.
IT WIT
by Sandeep Joshi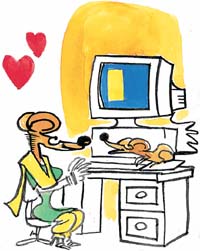 Dear Clickey Mouse. I love learning computers when I am with you.

Hyderabad attracts ITES companies
THE National Association of Software and Service Companies (Nasscom) revealed the findings of a study conducted in association with Netscribes to assess the competitiveness of nine Indian cities as destinations for IT Enabled Service (ITES) companies. The three-month long study evaluated the top nine cities including Ahmedabad, Bangalore, Chennai, Hyderabad, Kolkata, Kochi, Mumbai (including Navi Mumbai), Pune and NCR (Delhi, Noida and Gurgaon).

India ideal for BPO
by Nikita Singh
BUSINESS process outsourcing (BPO) forms an important part of the ITES (IT-enabled service) industry and is all set to grow exponentially in the years ahead. BPO means delegating back-end administrative functions that are necessary to run a business but are not a part of the core business. Companies are increasingly outsourcing key business functions and their related IT operations. The BPO industry is built around the raison d' etre of efficiency and cost-effectiveness.

by Imran Qureshi
INDIA'S burgeoning call centres and business process outsourcing (BPO) companies are facing a shortage of middle-level managers as the industry doubles its scaling up operations to meet outsourcing contractual requirements. Growing at nearly 40 per cent annually, the industry has already hit the radar screens of Fortune 500 companies for cost-effectiveness and quality. But the big challenge for the fledgling $1.5 million industry is to face up to the mid-management shortage in the next couple of years.

Looks like copier but isn't
by Sukhpreet
WITH the advent of computers and the Internet a lot of interest is being shown by one and all in gaining knowledge and work experience related to the field of hardware of software. However we might not be familiar with the functioning of various peripherals in use, one of them being Desktop Scanner (DTS) that plays an important role in converting the image, data from the hard copies on to the computer. At the first glance, DTS looks much like a personal copier. It also shares much of the technology.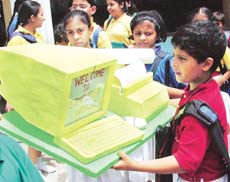 Catching them young: A primary section student of a school in Ludhiana takes his model to be displayed at Computer Awareness Week. — Photo by Pradeep Tewari

112 sites defaced this year
by Papri Sri Raman
WITH the Internet being used by millions and increasingly more work being done on the Web, cyber crimes and netiquette are beginning to be of concern in India. These concerns came under the scanner at two conferences here, one on how to build a professional image through the Net and the other on how to regulate content on the Web.

GRAPHIC: WORLD-WIDE INTERNET USERS