Badal slaps 2 cases on Amarinder
Seeks Rs 5 cr in damages
Tribune Reporters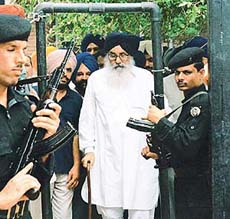 Former Chief Minister Parkash Singh Badal comes out of District Courts after filing criminal and civil cases against Punjab Chief Minister Amarinder Singh in Chandigarh on Monday. — A Tribune photograph
Chandigarh, August 12
Former Punjab Chief Minister and SAD President Parkash Singh Badal today filed a criminal complaint and a defamation suit against the Punjab Chief Minister, Capt Amarinder Singh, accusing him of spreading and publishing false reports about his assets and properties. Mr Badal also sought damages of Rs 5 crore.
Acting on the suit, UT Chief Judicial Magistrate C.L Mohal has issued notice to Capt Amarinder Singh for September 11 to file reply. Mr Mohal adjourned to September 13 the criminal complaint filed by Mr Badal against Capt Amarinder Singh for the latter's reply. Mr Badal submitted a court fee of Rs 4,90,000 for claiming the damages of Rs 5 crore through the civil suit.
Pointing out that Capt Amarinder Singh had been spreading and publishing false information about his assets and properties for the past one year and had been persisting with the same even after adorning the CM's chair, Mr Badal stated he had been left with no option but to take to legal recourse.
In the criminal complaint, Mr Badal prayed that the present complaint under Sections 499 and 500, IPC, be entertained for adjudication and Capt Amarinder Singh be punished in accordance with the law.
Mr Badal recorded his statement in a criminal complaint before the CJM. He stated that immediately after assuming office, Capt Amarinder Singh had launched a vicious campaign to defame and intimidate SAD workers and leaders. Mr Badal alleged that Capt Amarinder Singh had defamed him through letters and advertisements, claiming that the former owned assets worth Rs 3,500 crore in Australia, the USA, Switzerland, Delhi and Jodhpur.
Mr Badal also alleged that even during the campaign for the Assembly elections, Capt Amarinder Singh had got a number of false, misleading and defamatory posters, and advertisements published in various newspapers.
Mr Badal alleged that Capt Amarinder Singh had been openly going about proclaiming that the Akalis were corrupt and he would arrest them and teach them a lesson
Earlier, Mr Badal, accompanied by a battery of lawyers and party workers, reached District Courts around 9.50 am. Some of Mr Badal's vehicles entered the courts through the gate meant for the Judges, making security personnel take objection and later lock the gate. The case came up for hearing before the CJM around 10 am.
Addressing newspersons later, Mr Badal said it was Punjab's misfortune that the latter had become its Chief Minister.
While people of the state were facing a grave crisis and even the bare necessities like drinking water, power etc were not available to them because of the drought-like conditions, the Chief Minister and his associates were enjoying their stay in London, Scotland and the USA. "All sections of society have started realising that they had committed a mistake by bringing the Congress to power," he asserted.
Mr Badal said Capt Amarinder Singh was playing a political fraud on the people by claiming that loans and grants worth $ 1 billion had been sanctioned by the International Financial Consortium (IFC) to Punjab. He claimed that he could produce several such world agencies ready to give funds to the state. "When I was the Chief Minister, several agencies used to approach the government for giving funds but in the end they used to pay nothing," he added.
To secure funds for development in shape of loans and grants from foreign-based funding agencies was a long-drawn and tedious process and one had to sign on the dotted lines accepting many conditions of such bodies, he added. He said this Government would not last a full term.
Replying to a question about former SGPC chief G.S. Tohra, the former Chief Minister said it would have been better if the Congress had made him (Mr Tohra) President of the Punjab Pradesh Congress Committee. Mr Tohra would have proved a better choice, he added.
He said he had never resorted to politics of vendetta and always treated his opponents as political rivals and not as enemies. However, Capt Amarinder Singh was treating his political opponents, especially Akalis, as his enemies.
"I was knowing a lot about Capt Amarinder Singh's private life. I would have damaged him. But I did not speak as I prefer a political fight based on certain principles to a personal battle against the Chief Minister," Mr Badal said.