M A I N N E W S
Let us double GDP: Kalam
Visits quake-hit areas in Bhuj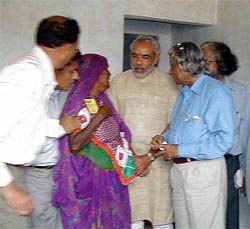 President A. P. J. Abdul Kalam talks to a woman of earthquake-hit Sukhpar village during his visit to that area on Tuesday. Gujarat Chief Minister Narendra Modi is also with him. — PTI photo
Bhuj (Kutch), August 13
President A.P.J. Abdul Kalam today called for united efforts to make the nation self-reliant by focusing on the development of the core sectors of the economy and doubling the gross domestic product (GDP) to 10 per cent per annum.
Rounding off his two-day Gujarat visit, Dr Kalam said India had to strive hard and concentrate on developing the core sectors of agriculture, food processing, education, health and information technology. Each Indian should have a mission to bring about transformation in the country", he said.
"Millions of people are living below the poverty line and the development of these sectors is necessary to remove poverty,'' he pointed out, speaking at a function for the rehabilitation of the quake-affected at Sukhpar, 5 km from here.
Earlier, Dr Kalam, although late by about two hours, was welcomed by thousands of Tricolour-waving people, including children, who had waited patiently for his arrival. He then planted a tree at a residential complex at Sukhpar and inaugurated a community hall constructed by the Ma Amritanandmayi Trust at Dagada village, 30 km from here. He also chatted with about 25 children orphaned by the earthquake and adopted by an organisation, SOS.
Talking to schoolchildren at Sukhpar, the President said, "I give you a message: dream, dream and dream. For, dreams transform into thoughts, thoughts transform into actions and actions transform into success."
Dr Kalam dedicated to the quake victims 100 prefabricated houses built here by the Technology Information Forecasting and Assessment Council (TIFAC) and praised the people of Kutch for their grit, resilience and determination in facing recurring natural calamities.
Dr Kalam, who arrived here at 11.15 a.m. accompanied by Chief Minister Narendra Modi, drove to the Pandit Deendayal Upadhyay Nagar, where these houses had been built on the outskirts of Bhuj.
He recalled the post-quake situation during his two earlier visits here and expressed satisfaction that the situation had improved.
The President later ended his two-day tour at 3.10 p.m. when his special IAF aircraft left for the Capital.
He was seen off at the airport by Mr Modi, state Industry Minister Suresh Mehta, Assembly Speaker Dhirubhai Shah and Bhuj municipality president Hansaben Chheda among others. UNI