Hazrat Shah Hussain was the first Punjabi poet whose kalam included a mixture of Punjabi with Pothohari, Hindi, Persian and Arabic. To make sure that the listeners can appreciate all its nuances, the album cover not only gives the lyrics of all the songs, but also their English translation. In the process the cover becomes one of the largest that you may have ever seen.
The words like Sajjan and Khavind are all used for God and once you master their hidden meaning, you undergo a divine transformation.
Everybody says I'm fine!
(Universal)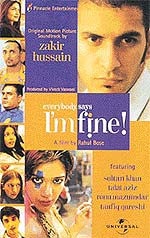 The soundtrack of this film is a far cry from the run of the mill stuff. Imagine rapping done along with qawwali! They call it world music, which is marked by "unhesitating use of musical influences from all parts of the world".
Maker Rahul Bose says that the only person who had the genius and the versatility to render music which spanned all genres — rap, trance, rock, pop, jazz and qawwali — was Zakir Hussain. The composer has not disappointed, although the mixing may come as come kind of shock to some.
The album has an Algerian singer harmonising with Talat Aziz in one track, Carlos Santana playing to Storms' vocals on another, and members of the horn section of the Californian band, Tower of Power, playing alongside our desi qawwals.
— ASC