Very fair skin: Steer clear of clothes that match the colour of your skin. Off-white, for instance, is a strict no-no. Instead go for dark (especially in the evenings) and pastel shades. For men, coppers and browns are the safest bet.
For make-up, you can wear a whole range of colours — from nudes and neutral to pinks and oranges. Likewise, your eye-shadow can vary from turquoise to azure to green and blue. But on the lips, using very dark colours can make you look prematurely aged.
As for eye lenses, stick to grey, blue or a dark shade of green. Any other colour could deflect attention from the rest of your face. Red-based colours such as ruby, burgundy and mahogany are apt for the hair on a light complexion.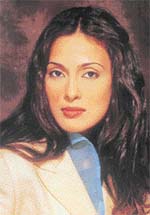 Make-up in earthy shades is most suitable for fair skin

Fair skin: Bright colours work best on clothes for a fair skin. Peacock blue, red and black are equally good, just as off-white, khaki and ecru. In fact, this is one skin tone that goes well with most of the colours.
But in make-up, a certain degree of caution needs to be exercised. Avoid bright and garish colours such as oranges and reds. Mid-tones and earthy shades of beige and brown are more appropriate, and so are frosted pinks and peach. Mauves and lilac work as a striking contrast here.
The eye colour could vary from green to ocean and grey to violet, whereas the hair may be coloured in ruby, burgundy or mahogany. Avoid brown-based colours on the hair, especially if they are tinged with gold, copper or purple.
Wheatish: Here, the colours to avoid for clothes are copper (that matches the skin tone) and dusty rose. Anything from purple and pink, to green, black and blue will do. For men though, all shades of brown as well as deep red, white and blue will bring out the skin tone.
Make-up has to be kept within mid-tones. A mixture of brown, yellow and beige pigments can work wonders. Earthier tones (brown with pink or orange) also look nice on a wheatish skin. Some shades of red (like rose) should be avoided, unless mixed with brown.
Likewise, brown-based colours go well with the hair, even as it could be tinged with gold and copper — even purple, but not mahogany or burgundy. For the eyes, lenses in shades of green and hazel can add drama to the look.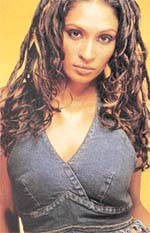 Brown hair go well with dusky skin

Dusky: Avoid clothes in muddy colours that blend with the skin. Lighter and brighter colours like lime green, lemon yellow and baby pink could be quite flattering. And should you want to be adventurous, try out some metallic shades like gold and silver. You wonregret it.
As for make-up, go for deep metal pink or brown or else, a deeper red with a hint of brown. Even bronze, gold, copper and maroon would suit your skin type, especially if you are in your early twenties. But avoid lilacs, purples and any such bright or strong colour on the face.
The hair should echo the same colour story with an emphasis on brown-based hues. Colours that are tinged with gold, copper or purple are very popular these days with the younger generation. Hazel or green for the eyes completes the look.
Dark: Bright clothes on a dark skin look fantastic. Oranges and mint are hot favourites, followed by pink, yellow and white. Avoid wearing blood red or mustard yellow and as far as possible be selective with black — unless, it is an evening out. Brown is a strict no-no.
Make-up too can be tricky. Stick to earthy shades of deep rust, chocolate, burgundy and deep plum. For a glossy texture, use burnished shades of gold, copper and bronze. Metallic colours tend to highlight skin tones and lend a healthy look to the face.
For the hair, avoid red-based hues. A light brown base would be more appropriate as it provides a nice contrast to the complexion. Hazel, and sometimes light blue (depending upon the colour of the clothing), would suit the eyes. MF