Social monitor
Watch out, they could be your kids too!
The pernicious effect of all this 'free show' on TV is evident from the rise in teen promiscuity and sex-related crimes. Umpteen scandals fill the newspapers — of pre-marital sex, teenaged unwed mothers, secret abortions, girls/boys apprehended in seedy hotels while out for 'fun', duping of parents to run off from school, gangrapes, sex-on-the-Net; obscene crank calls, stalkers... writes Iqbal Judge.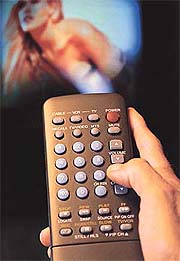 Your children do not remain unaffected by obscenity and vulgarity.

PICTURE this: You, the parents, your family with your children (from tots to teens) and perhaps the grandparents too, are watching TV. It may be one of those ubiquitous song and dance shows or a frothy family serial — seemingly innocuous, you think, and then, you slowly become aware that the dance steps are similar to sexual gyrations, the camera is focusing on sweating, hungry-looking honchos and luscious lips parted in impatient anticipation; or the boy-meets-girl romance suddenly turns fiery in full view of your in laws/parents and children — the half-undressed, lusty lovers engaged in a passionate clinch — and more! You cast a furtive look at the elders and the kids — they are gaping wide-eyed and then they too look sidelong towards you — now, what do you do?
Most parents, when asked, said that they hurriedly switch channels; a few said that they send their kids out on some pretext ('Beta will you get me a glass of water/see who's at the door), while a miniscule number said they simply clear their throats and stare on regardless.... A mother of two teenaged daughters said that her children themselves cry out 'Chhhi! Mamma, change, change!' My fifteen year-old son giggled sheepishly when I asked him what he feels when he sees such scenes — "I feel nervous, embarrassed... sometimes I pick up the newspaper and pretend to read it... 'And when you are alone?'
He squirms, the smile becomes even more sheepish "I keep watching!" It's all pervasive, in all forms of media — this portrayal of sex in every TV show, ad, film, magazine cover; even the relatively staid and sober newspapers titillate with the front -page snippet of big bosoms vying for attention alongside ageing politicians. So much so, that we've grown quite immune to this trend. Now, it doesn't shock so much, does it? In all probability, you too, change the channel a little less quickly, stare a little longer at the picture, and convince yourself that's its okay, you're broad-minded, its only natural, kids will learn about it anyway, so what yaar.....
But is it really okay? Doesn't it matter at all? Is this what being 'broad-minded' means? That sex, sleaze — the seamy side of life sho/uld invade the sanctity of your homes all twenty-four hours, relentlessly and unstoppingly bombard your mind with no-holds-barred visuals? Ask yourself and that too very frankly, do these images have no effect on you? Again, in all probability, you'll hear a small voice saying, 'they do'. Yes they do!
And the horrifying part is that they lull you into believing that it's all harmless entertainment, a sign of progressive, modern ways of thinking. Quite like steroids which make you feel well in blink of an eye, but which, as you well know, have devastating side-effects. Stealthily but surely, this barrage of sex and obscenity influences the mind, often working at a subliminal level, and through its packaging of gloss and glamour, its disguise of song, dance, fashion, love-stories, serials and news, it distorts your perceptions and erodes your values.
Then, as parents, you begin to believe that you're encouraging creativity and talent when you take your little children on-stage, where they thrust and gyrate to 'feeling hot-hot-hot' film songs or strut about in bikinis and briefs to clinch the 'Miss' and 'Master' titles. You, the adult, have succumbed to the guile wiles of the entertainment industry; imagine then, the effect on your impressionable, excitable children. They too, are influenced by what they see, they too think about it and imbibe it all. They develop distorted perceptions. Sex which is sublime, pure, beautiful-an act spurred by love, is demeaned and viewed as an obscenity, a bestial act of lust. A woman is perceived as an object of desire, to be pursued, possessed, used and abused; or is depicted as a wily, scheming, seducer. The 'F' in fashion shows — implies something far worse, sad luck. Your children and you are not looking at the cholis, but at what is neechey and peechey, make no mistake. They do, stir up 'something' inside, don't they? But you are experienced, mature adults. Only, imagine the impact on your children. The giggles and confessions of feeling nervous and embarrassed are indications of hormones aroused, sexual urges aroused, curiosity aroused, the desire to try it out aroused.... The result? Watching those scenes when parents aren't around or are asleep, talking obscenely about sex with one's peers, looking for partners to experiment with, willing away time in fantasising instead of studying, sweating over the small screen instead of the gym...
Granted it's a healthy, natural curiosity about growing-up, but isn't it ironical that we baulk at the very idea of talking matter-of-factly about sex and growing-up, with our children at home or in school/college, yet have no qualms about letting them gain 'information' through the perverted lens of the TV show/film/magazine?Pernicious effects of all this 'free show' are evident from the rise in teen promiscuity and sex-related crimes. Umpteen scandals fill the newspapers — of pre-marital sex, teenaged unwed mothers, secret abortions, girls/boys apprehended in seedy hotels while out for 'fun', duping parents to run off from school, gang-rapes, sex-on-the-Net; obscene crank calls, stalkers... And later — messy relationships where marriage and commitment become dirty words, where lovers fli(r)t from one messy relationship to another...
It is not just about other people, or others' kids... if you don't watch out, they could just be yours.