Tuesday, August 20, 2002, Chandigarh, India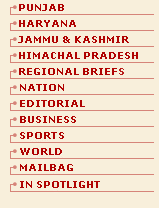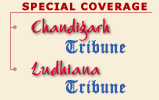 M A I N N E W S
Shekhawat sworn in as Vice-President
Tribune News Service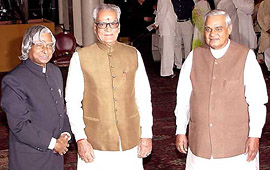 Vice-President Bhairon Singh Shekhawat with President A.P.J. Abdul Kalam and Prime Minister Atal Behari Vajpayee after taking oath at Rashtrapati Bhavan in New Delhi on Monday. — Tribune photo Mukesh Aggarwal
New Delhi, August 19
Veteran BJP leader Bhairon Singh Shekhawat was today sworn in as the country's 12th Vice-President at an impressive but brief ceremony at the imposing Ashoka Hall of Rashtrapati Bhavan here.
The oath of office to 79-year-old Shekhawat, the first BJP leader to occupy the second highest constitutional office, was administered by President A.P.J. Abdul Kalam.
The former Rajasthan Chief Minister took oath in Hindi in the presence of a host of dignitaries, including former President K.R. Narayanan, Prime Minister Atal Behari Vajpayee, former Prime Ministers P.V. Narasimha Rao, Chandra Shekhar and I.K. Gujral, Deputy Prime Minister L.K. Advani, Leader of the Opposition Sonia Gandhi, Chief Ministers J. Jayalalithaa, Farooq Abdullah and Ashok Gehlot, Trinamool Congress leader Mamata Banerjee and several Union Ministers.
Mr Shekhawat, who defeated senior Congress leader Sushil Kumar Shinde by a margin of 149 votes in the vice-presidential election conducted on August 12, succeeded Krishan Kant, who passed away a few days before his tenure was to end. Mr Shinde was also present at the ceremony.
After the swearing-in ceremony, Mr Shekhawat told newspersons that he would rise above party lines and ensure that major issues confronting the nation were thoroughly debated in the Rajya Sabha, of which he would be the Chairman.