M A I N N E W S
India 'at war' with Pak, says Advani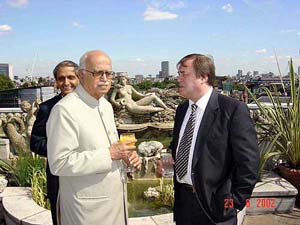 Deputy Prime Minister L.K. Advani with his British counterpart John Prescott in London on Wednesday. — PTI photo
London, August 22
India considers itself "at war" with Pakistan over Kashmir, though there is no formal declaration of hostilities, Deputy Prime Minister L.K. Advani said here.
"When people ask me 'will there be a war between India and Pakistan?', they are obviously referring to a declared war like that which happened in 1971 or 1965. But for India, we are at war," he told UK's Channel Four television.
He said there was no point in resuming talks with Pakistan until cross-border terrorism was put to an end.
Mr Advani, who is on a three-day visit to the UK, said cross-border terrorism "was still considerable, although there had been some reduction in infiltration because of international pressure on Pakistan." Mr Advani said India wanted that the UK, should crack down on people raising money here for Kashmiri militants."
Mr Advani last evening unveiled a bronze bust of the "Iron Man of India" Sardar Vallabh Bhai Patel, the first Home Minister of independent India, at India House here.
Even as the function took place, a motley group protested outside the house against the Gujarat killings.
He also met a delegation of leaders of the Gujarati Muslim community at the High Commissioner's residence, where a reception was held last night. PTI