Ultras kill 8 in Rajouri village
Tribune News Service and Agencies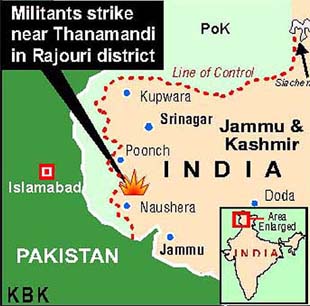 Jammu, August 24
At least 12 persons, including three women, were killed in three separate incidents in the region late last night.
According to the police, eight civilians — most of them Gujjars — including three women were gunned down at Dudasan village in Rajouri by a group of militants. The militants barged into the houses of villagers who were about to go to bed after dinner. They started firing indiscriminately killing all eight on the spot.
Those killed were Mohammad Nafiz, Shadar Hussain, Abdul Karim, Mohammad Ashraf, Shafiqa Begum and Shamima Akhtar.
In another incident at Hayat Pora in the Manjakote area of Rajouri, militants killed two civilians — Shamsher Ahmed and Mohammad Ashraf.
Additional forces were sent to the two areas to flush out the militants. So far no trace had been found and no rebel outfit had claimed responsibility.
Senior police officers suspected that it was part of a plan of Pakistan-trained militants to create a scare among the people so as to secure total response to their call for poll boycott.
They said since Rajouri was in the area where the polling was to be held in the first phase, the militants struck well in advance to create terror among the voters.
In another strike, militants shot dead Special Police Officer Mehboob Ali and his father Kalu Khan after barging into their house at Sawaria Chillu village in Doda district.
Ali was attached with a National Conference leader as a Personal Security Officer, sources said.
SRINAGAR: Ten persons were injured when militants hurled two grenades in quick succession at a security force bunker at Batamaloo Chowk here tonight, police sources said.
Five of the injured have been identified as Meema, Danish, Mohd. Akbar, Ziauddin and Mohd. Sultan.