Sonia calls govt communal, scam-tainted
Tribune News Service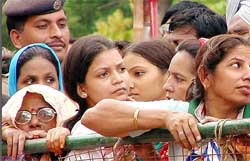 Congress supporters during a rally addressed by Congress President Sonia Gandhi in New Delhi on Saturday. — Tribune photo Mukesh Aggarwal
New Delhi, August 24
Congress President Sonia Gandhi said today that the "scam-tainted and communal" NDA government was "neck deep in corruption" and despite having a Prime Minister and a Deputy Prime Minister, it was unable to take action against those responsible for scams.
"Ek Sarkar me do do sardar, phir bhi koi nahi jimmedar", (one government with two leaders, but no one is being held responsible), Ms Gandhi quipped while hitting out at Prime Minister Atal Behari Vajpayee and Deputy Prime Minister L.K. Advani at a well-attended 'Jan Jagran" rally here.
She called upon the people to dethrone the Vajpayee government, ridiculing the lesson of "Raj dharma" given by the Prime Minister to Gujarat Chief Minister Narendra Modi.
"What is 'Raj dharma' of the BJP-led government? It is dharma of scams and communalism, corruption in defence deals, coffin purchase, UTI scam, Gujarat riots, petrol pump scam and the land scam — this is the real picture of their 'Raj dharma'," she said.
"When they were in the opposition, they blamed the Congress for anything that happened or did not happen. Now they are not ready to own up the moral responsibility for the scams in which their government is involved. All the guilty ministers are still holding office," she said.
Accusing the BJP of hurting the soul of Mahatma Gandhi's Gujarat, the Congress President said the ruling party had attempted to muzzle the media whenever it presented the "real face" of the saffron party.
"Tomorrow, even if God comes but fails to toe their line, they will point fingers at him," she said.
On the Gujarat issue, Ms Gandhi blamed the BJP for "spreading the poison of communalism" after the party felt it was losing its hold over the state.
Referring to the criticism of the Election Commission, Ms Gandhi said the BJP leaders were pointing fingers at constitutional bodies.
On the Jammu and Kashmir elections, she said the poll should be held under Governor's rule. She blamed the "weak and directionless" non-Congress governments at the Centre for "deterioration of the situation in the border state.
Others who addressed the rally included senior Congress leaders Mohsina Kidwai, Sushil Kumar Shinde, Kamal Nath, Delhi Chief Minister Sheila Dikshit and Delhi Congress President Subhash Chopra.