Noormahalias' apology rejected
Tribune News Service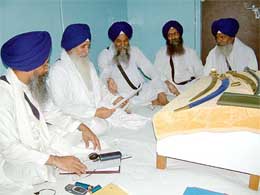 Sikh high priests hold a meeting at Akal Takht in Amritsar on Saturday.
— photo Rajiv Sharma
Amritsar, August 24
The controversy surrounding the "godman" Ashutosh refuses to die down as the Sikh high priests today rejected the unconditional apology tendered by the secretary of the Divya Jyoti Jagriti Sansthan for injuring the sentiments of Sikhs.
At a meeting held at Akal Takht today it was decided that the contents of the letter were vague and not even written by Ashutosh himself. The signature was not legible and hence such a letter could not be accepted. However, the Sikh clerics failed to fix the date for the next meeting of the 31-member committee which was constituted by Akal Takht in this regard.
The issue of the "secret meeting" of Prof Manjit Singh with activists of the Khalsa Panchayat who had levelled serious charges of corruption against Mr Joginder Singh Vedanti, Jatheder, Akal Takht, and his former personal assistant, dominated the proceedings of the meeting. One of the clerics was upset over the leakage of the news pertaining to the secret meeting to The Tribune.
After a marathon discussion, the high priests agreed to summon Mr Charanjit Singh Channi and four activists of the Khalsa Panchayat at Akal Takht for levelling "baseless" charges against the Sikh clergy which they failed to substantiate. A letter is likely to be dispatched shortly in this regard.
Even though the SGPC had not constituted the sub-committee to take a final decision on the authenticity of Dasam Granth despite a number of reminders, the high priests again directed it to take a decision on this sensitive issue without any delay. Jathedar Vedanti said his directions to the SGPC regarding the framing of rules and regulations for the appointments and removal of high priests had yet to be accepted.
On the raising of memorials, including that of Operation Bluestar, he said such decisions could be taken by the Sarbat Khalsa only.
When asked whether the Sikh clergy would summon Mr Parkash Singh Badal, at Akal Takht on the petition filed by the AISSF (Gill) that he had participated in a havan in violation of the Sikh traditions, he said the federation had not given sufficient proof so far. He evaded questions on the controversial Nanakshahi calendar and books of Gurbax Singh Kalaafghana.