Wednesday, August 28, 2002, Chandigarh, India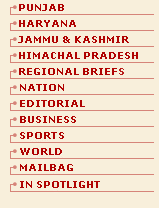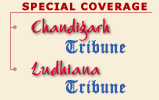 J A M M U & K A S H M I R
Hurriyat rejects US appeal
Srinagar, August 27
The Hurriyat Conference today announced its decision to attend the second round of talks with the Kashmir Committee headed by Mr Ram Jethmalani in New Delhi but rejected participation in the Assembly poll.
2 more groups give poll boycott call
Jammu, August 27
The Panun Kashmir and the All Kashmiri Pandit Solidarity Conference today announced that their activists would campaign for poll boycott.


A Kashmiri woman takes her children to a school on a boat in Srinagar on Tuesday.
— Reuters
Pak plot to disrupt elections will be thwarted: BSF
Srinagar, August 27
The next two months will be very crucial for the security forces guarding the border as Pakistan will make every effort to send into Kashmir more trained militants with sophisticated weapons with clear instructions to disrupt the election process, a senior official of the Border Security Force said today.
Shabir meets Kashmir panel tomorrow
August 27, 2002
ABVP's support gives boost to JSM
August 26, 2002
KRF paper tiger: Hurriyat
August 25, 2002
Farooq projects Omar as CM
August 24, 2002
3 Pak ultras held; four killed in J&K
August 23, 2002
SOG officer among 10 killed in Jammu & Kashmir
August 22, 2002
APHC ready for second round of talks
August 21, 2002
CPI to contest 8 seats in Jammu
August 20, 2002
J&K Representation Act amended
August 19, 2002
7 ultras killed in J&K
August 18, 2002