Wednesday, August 28, 2002, Chandigarh, India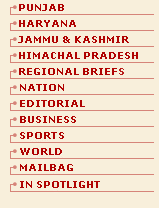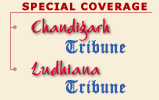 M A I N N E W S
PM, Advani not to meet Shabir Shah
Tribune News Service
New Delhi, August 27
Jammu and Kashmir Democratic People's Party (JKDPP) chief Shabir Shah will be arriving here tomorrow afternoon for talks with the Kashmir Committee headed by Mr Ram Jethmalani, but neither Prime Minister Atal Behari Vajpayee nor his deputy L.K. Advani will meet him. Well-placed sources in the government said today that the Prime Minister and the Deputy Prime Minister had been given reports by Central agencies that Mr Shah, once a strong advocate of widest possible participation in J&K elections and a chief ministerial aspirant, had of late been "won over" by Pakistan's Inter-Services Intelligence (ISI). In fact, the perception of an influential section of the government was that the sole purpose of Mr Shah's proposed visit here was to embarrass the Centre and stick to the well-known Pakistani line on Kashmir.
The sources said over the past few months, the ISI had opened up a channel of communication with Mr Shah. The ISI brief to Mr Shah was simple: create as many problems for the Government of India as possible and don't contest elections.
The ISI is also understood to have assured Mr Shah that if he were to do the ISI's bidding, Pakistan would make sure that he was not only brought back into the fold of the All-Party Hurriyat Conference (APHC) but also made a leader of the APHC. Pakistan is pinning hopes on Mr Shah's non-participation in the poll and if, in the unlikely event, he were to contest elections it would be a major tactical and political defeat for Islamabad.