SCIENCE & TECHNOLOGY CROSSWORD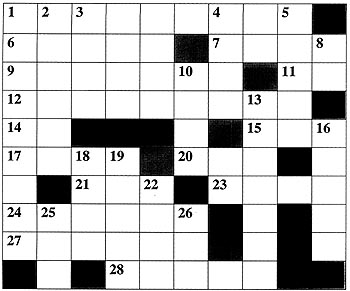 Clues
Across:
1. Instrument to measure the thickness of paint over a surface.
6. An inert gas used in electric tubes.
7. Created on the desktop for quick opening of a programme.
9. Monumental ancient structure of stone with polygonal or square base.
11. Doctor's language for one pill a day.
12. A substance on whose surface the absorption i.e. higher concentration of molecules takes place.
14. Symbol for Neon gas.
15. A tree with silver-gray bank and pinnate foliage.
17. Occurring in a machine causing its stoppage.
20. Flat representation of a building or of earth's surface.
21. Add effects to a film or a broadcast.
23. Thin wedge used in machinery to make parts fit together.
24. Swelling of the ear.
27. Plant covered with stinging hairs.
28. These rays produce intense ionization in gases through which they pass.
Down:
1. Scope for this must be kept to avoid cracks in structures.
2. This jar has a parallel plate capacitor made up of two cylindrical tin foil coatings.
3. One of the best scientific research centres of the world, now working on movements inside the volcanoes. (abbr.)
4. Rise and fall of sea occurring at every 12 hour intervals.
5. Parts of plant attached to Earth for nourishment from soil.
8. Symbol for Semi-metal Neodymium.
10. International organization for standardisation of weights and measures.
13. A mixture of hydrocarbons obtained from paraffin oil, coal tar etc.
16. Organic constituent of soil.
18. Almost horizontal entrance to a mine.
19. …..percha, a naturally occurring polymer used as a rubber additive.
22. Bitter fluid secreted by liver to aid digestion.
25. Best known anti-knocking agent added to gasoline.
26. A programme of Govt. of India to provide agro based self employment to needy women.
Solution to last week's Crossword: