Friday, August 30, 2002, Chandigarh, India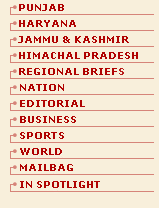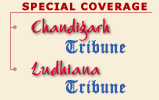 M A I N N E W S
Baba Dhanwant held on rape charge
Varinder Walia
Tribune News Service
Gurdaspur, August 29
Baba Dhanwant Singh, Chairman of the Noor Vishav Roohani Charitable Sansthan, has been arrested from his residence here by the Hoshiarpur police on a charge of raping a minor girl at his dera about a year ago. According to Ms Gurpreet Deo, district police chief, Hoshiarpur, Baba Dhanwant Singh was arrested today following an inquiry conducted by Ms Neerja, SSP, Nawanshahr. The orders for the registration of a fresh case were issued by the IG (Zonal), Jalandhar.
The baba was arrested by a police team headed by a Mukerian police official. A fresh case was registered by the Garhshankar police under Section 376 on the basis of the inquiry. Though the preliminary inquiry had pointed out circumstantial evidence of the rape of the girl, a further inquiry is yet to be conducted. The arrest of Baba Dhanwant Singh has put the Sikh clergy in a tight spot. The clergy had pronounced a mild tankhah (religious punishment) on the baba. However, the high priests had not touched the issue of rape alleged by activists of the Shiromani Khalsa Panchayat. This was the reason that the Khalsa Panchayat had levelled charges of corruption against the Sikh clergy, including that of the personal assistant to Giani Joginder Singh Vedanti, Jathedar, Akal Takht, for pronouncing a mild tankhah.
Though the activists of the Khalsa Panchayat had submitted proof of corruption to the SGPC chief, the high priests had bailed out Mr Prithipal Singh Sandhu, the then PA to Jathedar Vedanti on the basis of 'lack of evidence'.