London, September 1
The scandal over the sale of kidneys by Indian donors to British patients took a twist today, with a report saying that a British Sikh patient died during a kidney transplant in Jalandhar.
The report in The Sunday Times also points to the prevalence of sale of kidneys in India, by poor people as a means of meeting debts.
The reported death of 69-year-old Darshan Sandhu, who was a resident of Coventry in the Midlands, at a hospital in Jalandhar will figure in hearings involving a second doctor before the General Medical Council (GMC) in October.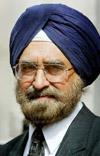 Dr Bhagat Singh Makkar, 62, was dismissed from the medical register following an inquiry by the GMC earlier this week. Evidence against the second doctor, Jarnail Singh also from Coventry, is also based on a conversation taped by undercover journalist Paul Samrai last year. Samrai had posed as someone looking for kidney donors on behalf of a relative.
Samrai and another journalist wrote in The Sunday Times that Sandhu died at a hospital after he contracted an infection during the operation.
In the taped interview, Dr Jarnail Singh gives detailed information on obtaining kidneys from poor donors in India.
The newspaper says trade in human organs from living donors was banned in India in 1994, but about 2,000 persons still sold kidneys there each year. Many who buy the organs are affluent Westerners who fly in for operations often set up by doctors effectively acting as brokers for the deals.
The report says Sandhu, who was a businessman, had spent seven years on dialysis before deciding to have a transplant from a paid donor. He consulted Dr Jarnail Singh before embarking on the trip.
Dr Jarnail Singh said on tape that £ 2,000 was the rate for a kidney.
The newspaper reports that there are 5,000 persons waiting for kidney transplants in the UK. Many become so desperate that they resort to buying an organ. Sandhu was among a number of patients from the Midlands said to have flown to India for the purpose.
The Sunday Times tracked down Amarjit Singh, who donated his kidney to Sandhu, in March to Raikot village in Punjab. He said he decided to sell his kidney after reading an advertisement in a Punjabi newspaper, which said: "I need a donor who can save my life."
"Sandhu promised me that if I donated a kidney, he would take me to the UK and find me a good job," said Amarjit, who has an eight-inch scar from where his left kidney was removed.
He said his family desperately needed the money. He was earning only about Rs 1,000 a month and living with three generations of his family in a few rooms around a narrow yard. IANS