M A I N N E W S
Six Pak men get death for rape
Muhammad Najeeb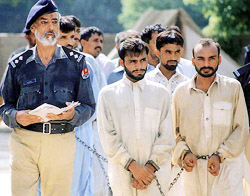 Abdul Khaliq (2nd L) and Allah Ditta, the accused of the gang-rape of a woman, are escorted to a court in Dera Ghazi Khan, 125 km west of the Punjab provincial city of Multan, in this August 3 file photo. — Reuters photo
Islamabad, September 1
Six Pakistani men have been awarded death sentence over the brutal gangrape of a woman who was ordered to be "punished" by a tribal jury for her teenage brother's alleged love affair.
An anti-terrorism judge announced the path-breaking verdict in a courtroom in the Punjab province packed with Pakistani and foreign journalists following a 23-day trial that attracted international attention.
The judge, who gave the ruling yesterday late in the night under tight security, acquitted eight other suspects from the powerful Mastoi tribe jury that ordered the rape of Mukhtaran Mai in June.
The incident occurred at Meerawala village in Punjab and highlighted the plight of women in the rural areas where feudal codes of behaviour still rule.
Mai was gangraped as a "punishment" for her brother's alleged affair with a woman of another tribe.
Because of a perceived security threat, the case was tried behind closed doors. In all, 14 men were tried — four for rape and 10 for authorising it. Four of the men who were sentenced to death raped Mai while the other two were members of the tribal jury.
The court also awarded life imprisonment to six persons and fined them Rs 40,000 each. Besides the death sentence, the court ordered 30 lashes to each culprit.
The judge did not allow defence lawyers to enter the courtroom. But they plan to move the high court in seven days, the stipulated time to file a decision of the anti-terrorism court. Special security troops were deployed around the court and in the entire city of Dera Ghazi Khan in central Punjab where the case was heard.
A terrified Mai testified in the court earlier that she had begged the jury to save her but its members took no notice and four men raped her while hundreds of villagers did nothing to stop the assault.
Afterwards, she said, she was forced to walk home half-naked in full public view along with her father and uncle. In July 2, the Supreme Court ordered the anti-terrorist court to hear the case.
In many of Pakistan's remote areas, tribal councils, made up of community elders, still work like a lawful body, judging cases ranging from animal theft or tribal rivalry to murder. IANS