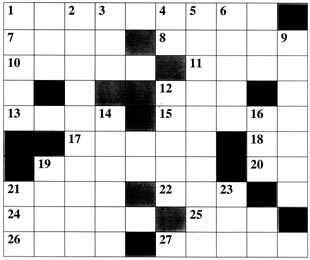 Clues
Across:
1. A new insect discovered by scientists in Brandberg mountains of Namibia.
7. Relating to agriculture.
8. Group of series of six.
10. Open sore on external or internal surface of body.
11. Highest single digit number.
12. A kind of missiles launched from ground or sea against surface targets (abbr.)
13. Piece of wood serving as support.
15. Supports for bridge-spans.
17. Device that converts signals from a particular equipment into a form suitable for use by another.
18. Abbr. for technique for artificial insemination to produce better species of animals.
19. Middle point of a line, circle or sphere.
20. Short for megaton.
21. Ornamental border done along lower part of walls in a house.
22. Popular abbreviation for medical termination of pregnancy.
24. Impure Aluminium oxide used as a polishing agent or abrasive.
25. Slippery snake like fish.
26. Small herbaceous cryptogam growing in crowded masses.
27. An inert gas of group 18.
Down:
1. A unit of magnetic induction.
2. According to this principle, a body when immersed in a fluid shows apparent loss of weight equal to weight of liquid displaced.
3. Female of fallow deer.
4. A unit of inductance in electromagnetism.
5. Instrument used to measure vapour pressure.
6. Organic compound obtained during reaction of hydro-xylamine with aldehyde.
9. Ratio of mass to volume.
12. Fertilizing fluid of male animal.
14. Atoms that donate lone pairs of electrons during formation of co-ordinate bonds.
16. Falling weight of pile driving machine.
18. A modulation technique used for long, medium and short radio-wave lengths.
23. Pin or bolt of wood or metal used to hold together parts of framework.
Solution to last week's Crossword