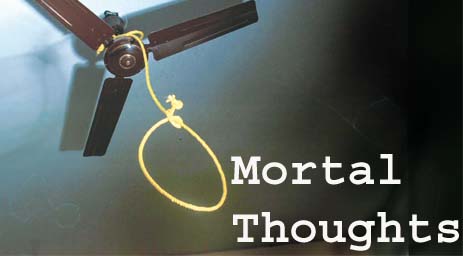 Suicide is a taboo; it is a subject that most of us avoid discussing although some humans and even some animals are known to end their lives for no apparent reason. Instead of brushing the subject aside and ignoring it, it is time we gave it a close look. By understanding it we might save lives, writes
Kuldip Dhiman
LOOKING BACK
The making of a legend
Sushil Kapoor
I was in Nairobi with the Punjab Cricket Team, when I heard about Kapil Dev Nikhanj being conferred the prestigious "Indian Cricketer of the Century" award in London. The news was greeted with great elation by the team members and members of the Indian community, which included Kapilís former Test colleague Sandip Patil, who is at present on a coaching assignment with the Kenyan national team.
reflections
Agonies of love
I.M. Soni
"LOVE," Havelock Ellis wrote, "is a synthesis of sex and friendship." Canít there be love without sex? Every love relationship possesses the physical element. Even Herbert Spencer placed it first in what is a classic point-by-point dissection of love ó ahead of affection, admiration, respect, beauty and sympathy.
ZEROING IN ON...
Mahimaís waning magic
Aditi Tandon
MAHIMA Chaudhary may not have been able to recreate the magic of Pardes till today, but she has certainly been trying hard to show her talent. And even though of late, critics have been ruthlessly dissecting her performances, this "cool" girl from Mumbai does not mind the criticism a bit. Not only because she feels that being censured is a sure indication that you are getting noticed, but also because criticism, if sportingly taken, can benefit the one who stands at the receiving end.