Spouse grouse
How to snap out of combat mode & stop arguing
Kulwinder Sandhu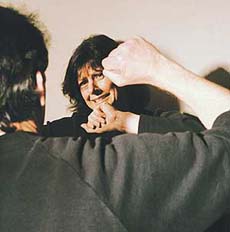 A positive approach can help end arguments between couples
HE stands in the kitchen drinking coffee, wondering what she wants from him. She stands over the sink, feeling her temples throb. Neither can remember how from deciding whether to get a new refrigerator they ended up arguing about money, that resulted in a shouting match. Each silently asks: Why can't we stop arguing like this?
That's a question most couples ask at one time or another. Fights spring out of nowhere and can quickly get out of hand. "You never take me anywhere," she accuses. He responds, "If you'd dress nicely, I might feel like it." She replies, "How can I buy nice clothes on the money you earn?" And so it goes...
It's all too easy to settle into hurtful, repetitive and even predictable ways of arguing with those we love. But, couples can often stop an argument before they start if they use the following "circuit breakers". These tips won't necessarily settle your disputes, but they will give you breathing room — the perspective you need to create a positive and nurturing relationship.
Switching roles
A middle-aged professional was convinced that his wife was too extravagant. "No matter how much Igive you for household expenses you always run short," he said. Do you have any idea what food costs these days? she replied. "Next time, why don't you buy the groceries?"
Thirty minutes at the market was enough to show the husband that his ideas of how much it cost to eat were about 10 years old. Role switching may not itself resolve disputes, but it does lay the foundation for talking about them from a new perspective.
Make a U-turn
"My husband doesn't listen," said a 35-year-old bank employee. "Sometimes he leaves the house and won't even tell me where he's going."
"Change how you typically react and see what happens," I suggested to her. "This week, don't ask him where he is going. And don't just wait at home. Join a club, or go to a movie, or visit a friend. If he asks you where your went, say honestly, "Oh, I just needed to get out for a while."
It wasn't easy for her, but she agreed to do so. The next night, she kissed him on the cheek and said, "I need to go out for a while. See you later. "She went to a movie and came home after midnight. The next night when he left with some friends, she wasnthere when he returned. When he asked where she had been, she said casually," Oh just out. I love you but I'm not going to worry so much about you."
Sometimes its easy to blame or nag. And, we think, of a little doesn't work, we'll double it. That's natural, but not always helpful. Instead, try making a U-turn from unsuccessful behaviour. You might be pleasantly surprised.
Side-step
When I ask some couples what topics spark off conflict, they usually tell me: insensitive comments, expensive purchases, undone chores, and sex.
"When my husband mentions my weight, it really provokes me," says a 38-year-old teacher. And he knows that when she once again refers to the clutter in the basement, he's in for trouble. These "red flags" are cues that the couples are venturing into areas virtually granted to start a fight.
If couples learn to watch and listen for "red flag" subjects, they can use them as warning signals to back off, slow down and lower the tone of discussion.
Therapist Amit Bhattacharya suggests that couples agree to immediate stop arguing as soon as either partner recognises a "red flag" word or issue. They resume the discussion when they have calmed down.
Laugh it off
Humour may be one of the most effective means of avoiding or derailing an argument. My friend Jatendra Kaushik was arguing with his wife, Suman, early in their marriage. "It reached the heights of absurdity," Jatendra says.
Finally, I said quite seriously, "You know what they would do to you in Russia if you did this? They'd take you out before a firing squad!"
What Suman said in response to my self-righteous statement was, "So, I made a mistake, shoot me!" After I stopped laughing, her words made me realise how absurd the argument had become.
Now when Jatendra Kaushik and Suman argue, one of them will say, "So, I made a mistake, shoot me." Whenever they say it, they laugh and become more civil.
Humour can change the emotional climate of an I'm — right — and — you're — wrong fight. You begin to realise that the argument is absurd and see you are part of the problem too.
Positive approach
A few years ago, a professor and his wife were on the verge of separating because they couldn't stop quarrelling. Then one evening while talking with old friends, the couple started recalling the fun they'd had as newly weds going to free art exhibits and discovering inexpensive restaurants. After that they repeated some of their past experiences, recapturing their old positive attitudes and gradually knitting their marriage back together.
Another marriage was plagued by constant arguing about the husband's thoughtlessness. Immersed in his computer-programming business, he seldom remembered his wife's birthday or their anniversary." Fighting with him only made matters worse," said the woman.
She further says, "Instead, I remembered how pleased be used to be, years ago, when I hugged and kissed him whenever he brought me the slightest trinket. So I waited for the first chance I had to praise him for some small act of thoughtfulness.
When he brought home a book she'd asked for, she thanked him as if he had given her a diamond, "He looked at me oddly," she admitted. "But Iknew he was pleased. I did this a few more times, and gradually he began to think about me because he enjoyed being appreciated, just like in the old days."
Forgiving is winning
When couples force themselves to take a positive approach, the results can be surprisingly rewarding.
I am often asked if a relationship can be saved. I usually respond, "No, but you can build a new relationship." Forgiveness allows that process to begin. We may feel we're admitting defeat when we do the forgiving. But on the contrary, as the saying goes, the one who forgives gains the victory.
Forgiveness involves letting go of anger, restoring respect and offering acceptance. If you can find a way to offer the gift of forgiveness, you'll have discovered one of the strongest circuit breakers of all, one that allows you to put down the burden you're carrying. With your hands and heart free, you and your partner can begin building a new, more fulfilling relationship.