M.G. Ramchandran: Jewel of the Masses;
Sivaji Ganeshan: The Making of a Legend both by Roopa Swaminathan. Rupa and Company, New Delhi. Pages 79 and 71, respectively.Rs 150 each.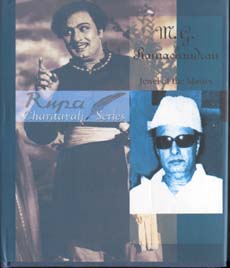 Tamil filmdom has been a fertile breeding ground for politicians. Marudur Gopalamenon Ramachandran, popularly known as MGR, came to politics via the films and reached the peak of political success to become the Chief Minister of the state.
Roopa Swaminathan, in these two books, narrates the life story of MGR and of another colossus of Tamil cinema, Sivaji Ganeshan, who shared with MGR the top spot in Tamil cinema and also entered politics in the same era. MGR made a tremendous success in politics but Sivaji proved an inept political player.
As a film hero MGR chose his roles carefully with an eye on building his own image. Starting with mythologicals, he moved on to social themes where he picked up the roles of the poor underdog who stands up to the might of rich oppressors and gets the better of them. This gave him the image of a modernday Robin Hood and a fan base which eventually turned into a huge vote bank sustained by more than 10,000 fan clubs that MGR took care to nurture and promote.
Sivaji, on the other hand, accepted difficult roles that provided him with scope to show his acting talent.He played a murderer, a handicapped person, and even a traitor. These were roles that many actors would hesitate to accept.
Both rose to great heights of stardom but through different routes. MGR presented himself as a man of the masses, selecting reels that projected him as a champion of the deprived. Sivaji rose to the top on the strength of his acting prowess. While critics did not think much of MGRís talent, Sivajiís abilities were widely acclaimed. The nation honoured him with the Padma Shri in 1966 and the Padma Bhushan in 1984. The Dada Saheb Phalke award in 1996 was the most appropriate reward for his contribution to Indian cinema.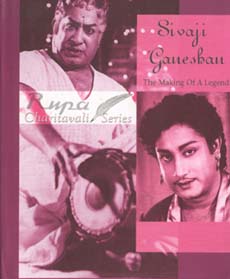 Both entered politics, but MGR had prepared his ground well and made a big success in politics. Sivaji, after an initial success, fumbled in politics. MGR joined Annaduraisís Dravida Munnetra Kazhagam in 1956 and ever since propagated the ideals of the party ó atheism and anti-Brahminism. It did not take the reel hero much time to become a real-life hero. This filmstar-politician, who came from Sri Lanka, came to be adored by millions of Tamils like an icon and grew to be the most powerful man in Tamil Nadu.
Yet the book that records the rise of this charismatic personality of Tamil Nadu does not fail to mention that during the 11 years of his rule, profiteers, liquor barons, real estate magnates and ruling party politicians prospered immensely while the poor the constituted the backbone of his support base lived in unbearable misery.
When MGR died on December 24, 1987, the city of Madras saw the biggest ever funeral in its history. Over two million persons followed his mortal remains, more than 30 of his followers committed suicide and thousands had their heads tonsured as a mark of mourning.
When Shivaji died on July 21, 2001, the news did not make big headlines in the national Press. The death of Phoolan Devi about a week later claimed bigger headlines. However, cinema houses and studios all over Tamil Nadu remained closed for the day. His funeral was attended by almost every actor, actress and technician in Chennai, besides a large number of his admirers. Fans beat their chests unashamedly and wailed in grief. Tributes were paid by almost everybody in the film industry. But the last word came from Kamalahasan who is considered to be the most suitable candidate to inherit Sivajiís mantle. "Any South Indian actor who says he had not been influenced by Shivaji is a liar," he said.
Here are two monographs on two Titans of Tamil cinema who were very different from each other and who adopted different strategies to reach the summit.