Big B back on the small screen
Amitabh Bachchan is back, as promised. The god of the silver screen who also conquered the small screen, with his programme of intelligent choices and mega bucks, is back to help the participants bag their dream crores.
Only that the first 14 episodes will be re-runs of the earlier ones, simply to prepare the viewers for more adventure. They will include those episodes shot with stars Shah Rukh, Aamir Khan, Madhuri Dixit as also the one featuring Harshavardhan Navathe as the first crorepati.
The highlight of the re-runs would be that viewers can send the correct answers for the options available on the screen, via SMS. The first 10 senders with the right answers would win a cool amount of Rs 1 lakh.
So, its double treat time for those who cherish the Bachchan and moolah equally.
Rahul Khanna back
Where did Rahul Khanna disappear? After playing the soft-hearted masseur in Deepa Mehta's Earth, Rahul seemed to have vanished from the big screen, whereas brother Akshaye made it big with Dil Chahta Hai and more recently, Humraaz. But the actor insists that he has been involved in script sessions, apart from waiting for this project to be completed.
Rahul is paired opposite model-actress Lisa Ray in the new Deepa Mehta film, Bollywood/Hollywood (a romantic comedy), while Moushmi Chatterjee plays his melodramatic mom. The dialogue of the film ia a mix between English , Hindi and a bit of Punjabi. The movie sounds like a tongue-in-cheek look at the divide between two of the world's biggest film industries. Bollywood/Hollywood is to be screened at the Toronto film festival in September, 2002.
We wonder if this fusion of East and West meets with the kind of success that Bend It Like Beckham recently enjoyed. In any case, it's great to have Rahul back on the big screen.
Ash to star in Shyamalan film?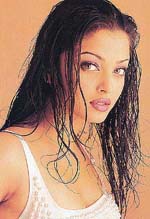 Aishwarya's aishwarya (fame) as an actress, post Devdas, seems to have reached Hollywood as well. Director Manoj Night Shyamalan, whose The Sixth Sense went on to break Hollywood records and is now enjoying the success of his latest supernatural thriller Signs is reportedly keen to cast the green-eyed beauty as a parallel lead in his forthcoming film. Signs, which is about mysterious crop circles that appear in corn fields, has already gathered impressive collections in the USA. Its young director is billed as the next Steven Spielberg.
Rai who is suddenly seen at happening functions and events, literally beaming after Devdas (or is it after Salman?), is reportedly to pay Shyamalan a visit in September, while touring America.
Karan Johar gets working
The director with the Midas touch, Karan Johar, is not one to rest on his golden laurels. The new generation whizkid has already thought out his forthcoming venture. Much impressed by Aishwarya Rai's performance in Devdas, Karan has zeroed in on Ash to play the lead opposite his old favourite, Shah Rukh Khan.
The couple is still basking in the success of their romantic sojourn, Devdas. The high energy director is busy scripting his new concept in the inspiring environs of London. Ash's career seems to be have reached a new high with Devdas. The actress whose love life seemed to have overpowered her career, is now seen at functions (minus her beau), at her smiling best.
Aditi Gowitrikar thinks beyond Soch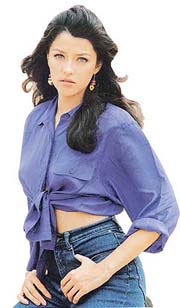 Aditi Gowitrikar, the doctor-cum-model-cum-Mrs World-cum actress has newer dreams to pursue after her latest release Soch. So what if this Sushen Bhatnagar film which she signed even before 16 December, took so long to release. Her performance is all that matters to this gutsy lady. Playing the pot-smoking wife of a Bollywood star, the lady has shown her flair for the unconventional.
Even at the recently held Lakme India Fashion Show, while doing a take off on the Madhuri Dixit number Ek do teen, Gowitrikar won a hearty round of applause, so spirited was her expression. Enthusiastic about her upcoming film, Yashovardhan Tyagi's Dhund-The Fog, opposite Amarr Upadhyay, the light-eyed stunner is clear about what she wants. Meaty roles, more colourful ramp shows and loads of time to spend with husband Mufaddal and daughter Kiara.
But for now, it's Soch time for Aditi.
Salman in Hollywood flick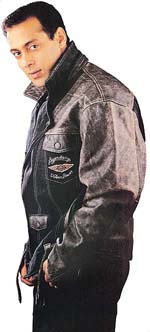 The Salman Khan magic is not restricted to Indian shores alone. The desi dude has admirers across the continents. Hollywood director Willard Carroll (of Playing By Heart fame) was so impressed by Khan's masala potboiler Chori Chori Chupke Chupke, that since then, he has lapped up more than a hundred Hindi films. The president of Hyperion Pictures, an American studio, Tom White and associate Carroll, decided to rope in this macho guy with melting looks for the Hollywood-Bollywood combine, Marigold.
Carroll, who is both the writer and director of the film, was convinced that Khan's cross-cultural charisma would with the Americans.
Marigold will be a bilingual, in Hindi and English. The Hollywood duo are tight-lipped about who will play the female lead. But that she is an American, a twenty something and definitely hot, is all that they hint at.
'Two' hot to handle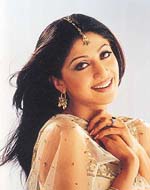 Both are tall, dusky and have cascading tresses. So when Shilpa Shetty and Bipasha Basu team up in a film, it spells double trouble for the hero. After the debacle of her much hyped film Badhaai Ho Badhaai, Shilpa is now all revved up about David Dhawan entertainer Chor Machaaye Shor, co-starring Bobby Deol and Bipasha Basu. Bipasha, on the other hand, has been pretty unwell lately and is bouncing back with this comedy.
Shilpa is working with the Jr Deol for the first time, while Sunny and she have already appeared together on screen. But the leggy actress faces some tough competition from the sultry Bipasha Basu. If Shilpa is known to sizzle on screen, Bipasha too is known to set the screen on fire. We leave it to Bobby to douse the flames!
Leisure Media News