INDIA has done a lot but it needs to do more if it has to compete with the rest of the Asian giants and consolidate its position in the world market. Even as the downswing in IT continues, many are still bullish about the contribution that India and Indians can make. In fact, the Asia-Pacific region showed the largest sales of computer microprocessors for Intel worldwide and the largest sale was for the high-end Pentium 4 chips.

GRE cancels computer tests in India
THE board of the Graduate Record Examination (GRE) in which thousands appear every year to pursue higher education in the USA has decided to cancel the computer science test in India due to security breaches. The board decided to cancel the test in India and China in the 2002-03 testing year after an investigation revealed improper sharing by students of questions from the computer science test, said a GRE statement.

Intrusion by hook or crook
Pukhraj Singh
ACCORDING to a survey by webstats.com, an average individual nowadays gets the same amount of information in a single day, what an 19th century man used to get in his whole life. It's not easy to hang out there in the 'Infinity void' as unknown dangers lurk from the sinister nooks and corners of the Net.

ATM outlets increase, transactions decrease
S. C. Dhall
OF late public sector banks have been making heavy investments in ATMs. The big question is — are their depositors using ATMs? The ATM installation is on the rise but the usage has not increased. To reap maximum benefits from the investment, banks will need to network the machines and educate not only their staff at lower level but at higher level too.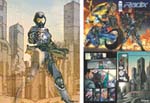 Soldier of the future plagiarised
Greg Frost
WHEN MIT announced in March that it won a $50 million grant to design hi-tech gear for the US Army's "soldier of the future," the project was hailed as the stuff of science fiction and comic book heroes. It turns out there was a lot more to those plaudits than most people realised.


Shop sans shopkeeper
Deborah Zabarenko
IT'S late, the shops are closed and you simply must have a roasted eggplant-and-ricotta sandwich and an iced cappuccino. There's really only one place to go: the deli-sized vending machine on the corner. Feed in your money or your credit card, touch a few squares on a computer screen, and voila — the robotic metal shopping basket finds your items and delivers them to your waiting hands.

Crime goes hi-tech in Canada
David Ljunggren
ORGANISED crime gangs are becoming ever more technically advanced and are behind a dramatic rise in the amount of child pornography spread over the Internet, Canadian police said. In its annual report on organised crime, Criminal Intelligence Service, Canada, said some gangs were taking advantage of "seemingly limitless resources" to become proficient in high-tech operations.

IT WIT
by Sandeep Joshi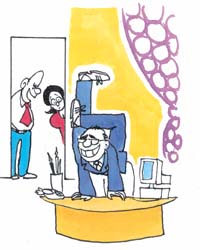 Is he the latest version of Acrobat Editor?
BSNL, VSNL bully Netizens, prevent sending bulk mail
Anil Chawla
SOMETIME ago, the Internet subscribers of Bharat Sanchar Nigam Ltd (BSNL) received an e-mail message informing them of the anti-spamming measures implemented on Sancharnet (BSNL's Internet server). One would have expected that the BSNL would try to help its customers avoid receiving unwanted junk mail. Instead of doing that, BSNL is only trying to act as a hindrance preventing its customers from sending any bulk mail.

Increasing govt efficiency with 'e'
Kulwant Kaur
ELECTRONIC governance (e-governance) is the application of Information Technology (IT) to the processes of government's functioning to bring about Simple Moral Accountable Responsive and Transport governance. SMART governance in a nutshell.

Online garment fair in Bangladesh
Ershadul Huq
WANT some colourful, stylish garments from Bangladesh? Log on and order away. A virtual trade fair is on at www.bangladeshgarments.info -a Website designed by garment traders in the country for which the sector is the biggest export earner.