M A I N N E W S
Sangra sworn in as PPSC chief
Tribune News Service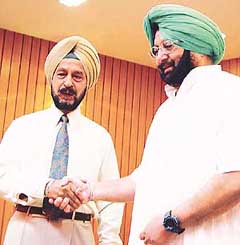 Punjab Chief Minister Amarinder Singh congratulates the new PPSC Chairman, Lt-Gen Surjit Singh Sangra (retd), after his swearing-in ceremony at Punjab Raj Bhavan in Chandigarh on Thursday.
— A Tribune photograph
Chandigarh, September 12
Lt-Gen Surjit Singh Sangra (Retd) was sworn in as Chairman of the Punjab Public Service Commission at a simple ceremony at Raj Bhavan today. The oath of office and was administered by the Governor, Lt-Gen J.F.R. Jacob (retd). The Chief Secretary, Mr Y.S. Ratra, read out the warrant of appointment. Gen Surjit Singh was earlier appointed as a Member of the PPSC.
The ceremony was attended, among others, by Chief Minister Amarinder Singh, who flew in from New Delhi this morning after angioplasty. Capt Amarinder Singh said the Cabinet would discuss the tariff order of the state electricity regulatory commission on Tuesday. Prior to that the Cabinet subcommittee would take up the tariff order issue, as also the proposed disinvestment in public sector undertakings.
The commission order is binding on the government and the PSEB. ''We will take into consideration all factors when it comes to deciding on the tariff to be charged for agriculture power supply to operate tubewells'', he added.
Capt Amarinder Singh reiterated that the campaign against corruption would go on. All those whose names come up during investigation shall have to face the music even if it is that of Mr Parkash Singh Badal. ''I wonder why is he so keen on getting arrested'',? he asked. The Chief Minister also dismissed as of no consequence the state-wide dharnas staged by the Akalis yesterday.
On filing a petition on the SYL canal in the Supreme Court, he said there was enough time till January 15 next. Punjab would first seek a Court verdict on the sharing of water before the SYL canal can be completed and commissioned, as directed by the apex court.