Rain plays havoc with paddy crop
Heavy showers predicted in region
Sarbjit Dhaliwal
Tribune News Service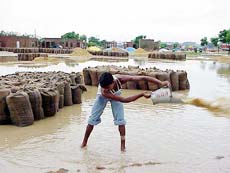 A labourer tries to drain out water at Bhagtanwala Mandi in Amritsar on Friday. Heavy rain in the past 24 hours caused damage to foodgrain in the market.
— PTI photo
Chandigarh, September 13
While the local regional meteorological office has alerted the Punjab and Haryana Governments predicting a heavy rainfall at isolated places in this region during the next 36 hours, the Agriculture Departments in both states say that the moderate-to-heavy rainfall in this region for the past few days has started playing havoc with the paddy crop.
On the other hand, the PSEB has closed five units of the thermal plants located at Bathinda, Ropar and Lehra Mohabbat because of a steep fall in the demand for power supply.
The Met Department said while a moderate rainfall was expected in the entire region in the next 36 hours, there would be a heavy rainfall at isolated places in Punjab, Haryana, Himachal and Chandigarh. "We have warned the governments concerned in this connection; an official of the Met Department said.
Many places in the region witnessed a heavy rainfall in the past 24 hours. While the Nangal dam recorded about 100 mm of rainfall, it was 90 mm in Patiala district and 70 mm in Ludhiana district. Chandigarh had about 60 mm and Gurgaon about 60 mm of rainfall. In Kaithal the rainfall was around 50 mm and in Shimla about 40 mm.
While rain has proved good for the PSEB, the Agriculture Departments in Punjab and Haryana are feeling upset. "Earlier it was drought and now it was rain that has started making life hell for the farming community in the region", said Dr Ram Pal, Director, Agriculture, Punjab.
There was about 24.51 lakh hectares under the paddy crop in Punjab alone. And the entire paddy crop, except one lakh hectare that was under basmati variety was almost ready for harvesting.
The Agriculture Department has been expecting 72 lakh tonnes of paddy from the current crop against the earlier target of 87.28 lakh tonnes. Drought has caused about 15 per cent loss in the yield of paddy.
"But rain at this stage will hit the crop further", said Dr Ram Pal. Quizzed about the level of water in different rivers in the state, Mr Rajesh Chhabra, Principal Secretary, Irrigation, Punjab, said the authorities concerned had been told to keep a constant watch on the Ghaggar as its catchment area had been having a heavy rainfall for the past few days.