The scenic splendour of Sarahan
Ravi Bali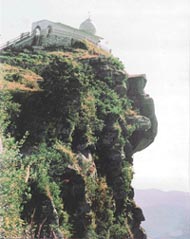 The famous Bhurshing temple near Sarahan
SARAHAN lies in Sirmour district of H.P. at an elevation of 4500 feet on the Nahan-Shimla highway. It is basically a unique all-weather hill town destination. Sarahan and Narag are like twin sisters and their location and characteristics are beautiful enough to attract any visitor. Interestingly Sarahan valley experiences snowfall, too, which is rare and unique because mountain heights in the bracket of 4500 ft. seldom receive snowfall. The picturesque Sarsu Valley also receives snow but it is situated at 5250 ft.
According to Ashok Thakur, Principal Secretary-cum-F.C. Tourism, H.P., "The magnificent Sarahan - Narag valley is like Europe in the backyard for people of Chandigarh and adjoining Haryana and Punjab."
How to reach
There are about half a dozen different ways to reach the Sarahan-Narag valley. From Chandigarh one can take a right turn before Pinjore on the Pinjore-Mallah-Sarahan road which is roughly 85 km from Chandigarh. This road is not in a very good condition but the bonus is that it's a quiet road with hardly any traffic. The second route is after crossing Timber Trail at Parwanoo from Chakki Mod. Here a road goes towards Sarahan which is 70 km from Chandigarh. This is, probably, the shortest route via the Jodji and Nain Tikkar temples. The third option is reaching Sarahan after crossing Dharampur and taking a right turn from Kumarhatti and again touching Jodji and Naina Tikkar.
Where to stay
For staying in HPPWD rest houses at Sarahan, Narag and Bhagthan, one can contact XEN Rajgarh on telephone no. 01799-21023 and for staying at Narag Forest Rest House and one can contact DFO Rajgarh at 01799-20101. One can also start early from Chandigarh in oneís own vehicle and return in the evening, or stay at Hotel Grandview Resorts at Jhamta, 35 km from Sarahan on the Nahan-Sarahan-Shimla road. The telephone nos of Hotel Grandview Resorts are 0171-58915 or 58886 If one is part of a big group one can stay on prior intimation and permission at the Y.S. Parmar University for Horticulture & Forestry at Nauni. The PRO of the university can be contacted at 01792-52316.
In Narag valley, just behind the Narag Forest Rest House, you can go for a short trek that is appropriate for amateurs to Kwaru mountain top where the deity Lord Kwaru permanently resides with 21 others local deities. The view from this mountain top is magnificent. According to Jagmohan Chauhan, Dean of Horticulture at the Dr Y.S. Parmar University for Horticulture and Forestry, "The Narag valley is blessed by God and nature bountifully and thus it has very fertile land and produces high quality pomegranates in large quantity and can also rightly be called as the anardana bowl of Himachal Pradesh. The valley also boasts of producing and growing quality tomatoes and vegetables. The walnuts in this valley are also grown in abundance and the valley, thus, boasts of probably best varieties of the same in the country."
The visit is incomplete if one does not visit the divine Bhurshing Temple dedicated to legendry local deities called Lord Bhurshing and his sister, called Devi in the valley. One can also visit the nearby Jodji Temple and Mata Naina Tikkar Temple.
According to Khushi Ram Gautam, a 85-year-old learned scholar and local resident of Sarahan who has done his Ph.D in Sirmouri culture, temples and folklore, "The Bhurshing Temple is basically a very ancient shrine about 500 years old. It is situated in Pajerali village on a hilltop having a commanding view of the valley. Mainly Brahmin families reside in this village. Today thousands of local people visit this shrine throughout the year, especially on the mela day that falls 11 days after Divali on Ekadashi."
Naina Tikkar, a picturesque village, is located on the Kumarhatti-Sarahan-Nahan state highway. The environs around Naina Tikkar are lush green and beautiful. There is also the Mata Naina Devi Temple at Naina Tikkar to which this village owes its name. Itís a very ancient temple and devoted to Mata Naina Deviji.