J&K Elections 2002
Ballot for Peace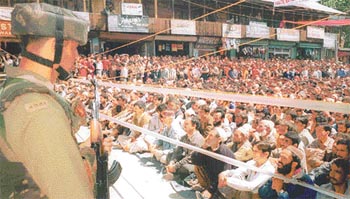 A concerted attempt is being made by terrorists to nip people's enthusiasm in the bud for the forthcoming elections in the Valley. Giving a clear-cut signal, terrorists have stepped up violence this week in an attempt to keep people away from polling booths, writes M. L. Kak.
Upbeat mood battles terrorist threat
Ehsan Fazili
AMID continued threats from separatist militants, Jammu and Kashmir is poised for an election in four phases to the state Assembly, beginning with the first phase on September 16. The process, spread over 60 days and ending on October 12, has been devised in such a manner that adequate security can be provided to all areas of the state.
He is instrumental in making music
Sanjay Austa
IT was a shop even the Beatles could not afford to give a miss in their roller-coaster Indian tour in 1966. For Bishan Das Sharma, the owner of Rikhi Ram Musical Manufacturing Company, the sudden showing up of the Beatles at this shop in Connaught Place, New Delhi, has been one of his most memorable moments. That was a day when while a crowd gathered outside, Sharma taught a thing or two about sitars to the Fab Four. "George Harrison ordered a sitar immediately, while Paul McCartney bought himself a tanpura" recalls Sharma.
TAKING NOTE
Celebration of the national language
Sansar Chandra
HINDI in Devnagari script was declared the national language of India on September 14, 1950. Since then this day has been observed as Hindi Day. It was decided to fix a period of 15 years to make Hindi suitable for official use. It was decided that in the meantime employees would learn Hindi and a glossary of technical terms would also be compiled. The deadline for such recommendations, however, has been extended time and again.