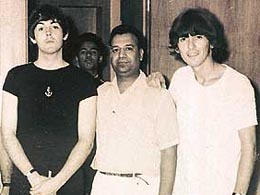 Paul McCartney and George Harrison with Bishan at his shop in 1966
Sharma belongs to a family of musicians, therefore it is not difficult for him to understand the demands of his clients. His grandfather Pt Govind Ram was a vocalist in Lahore, while his father Rikhi Ram, after whom the shop is named, began the business of making musical instruments, "We are Brahmins, and have traditionally sung kirtans and bhajans. Music is in our blood. In earlier times, the musicians made their instruments themselves. It was only later that it became a specialised profession," says Sharma.
Sharma's father, Rikhi Ram, was a technician in a museum in Lahore before he began to make musical instruments. In his spare time he used to play harmonium for customers in music shops. He began making instruments in 1920. At 16, Bishan Das Sharma joined his father and their business flourished. After Partition, they were allotted their present shop at Connaught Place.
After his father's death in 1961 Sharma shouldered the responsibility of the business on his own. Sharma is not only a skilled instrument-maker but also a proficient sitar player. For five years, he learnt the sitar under the tutelage of none other than sitar maestro Pt Ravi Shankar. Sharma has been felicitated a number of times but the big day arrived in 1999 when he received the Sangeet Natak Akademi Award from the President of India "for his contribution to the art of instrument-making."
According to Sharma, it is very important for an instrument-maker to know the nuances of good music. "One has to be a musician oneself before making any musical instrument. One must be both a skilled craftsperson and a good musician to know the correct tonal quality of the instrument one is making," he says.
Sharma has a team of craftspersons at his musical instrument factory in Arjan Nagar in Delhi, but it is he who supervises crucial aspects like setting the bridge, the scale, the frets, etc. According to Sharma, a lot also depends on how well seasoned is the wood which is used for the instruments. "I only used seasoned wood as that gives the best quality sound. Sometimes the wood has to be seasoned for as long as 10 years," he says. The minimum time however is one year from the time the tree is felled.
Since a wide variety of animal and plant material is used, its procurement is difficult. "Earlier ivory or deer horn were used for the sitar bridge, but now we have to make do with plastic substitutes like solotide. Natural material from plants and animals made better-sounding instruments. But since their use has been banned, synthetic products have to be used in their place. This affects the quality of sound," says Sharma.
Besides the animal products, basic material like wood is also becoming scarce and very expensive. Some of the different types of wood used for the instruments include cidar, rosewood, shisham and blackwood. "We prefer the trunk of a tree as it is very durable but it is virtually impossible to get it now," says Sharma.
Another problem that plagues the makers of classical instruments is the growing apathy among the youth for such musical instruments. "The young generation is more interested in electronic instruments and latest musical gizmos. They neither know nor care about learning classical music," says Sharma. According to him, this trend has dipped their sale of instruments considerably. Most of the instruments that Sharma now sells are to the musicians themselves or to the students of classical music. The musicians make their order much in advance. Though the Indian youth has taken a fancy to western electronic instruments, he says, the westerners are enamoured by the strains of classical Indian instruments. "Besides the musicians, my other customers are foreigners. Rarely does an Indian come to buy any instrument from my shop," says Sharma. According to him, most of the foreigners, like the legendary George Harrison, are interested in the sitar.
The scenario, undoubtedly may seem 'bleak', but Sharma has passed his legacy to his two sons who are both illustrious musicians. While the younger son Sanjay likes to play the tabla, the elder son Ajay enjoys the sitar.