Speeding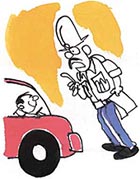 A kid was pulled over for speeding. The cop got out of his car and the young man rolled down his window. "I've been waiting for you all day," the cop said. The guy replied, "Yeah, well I got here as fast as I could." When the cop finally stopped laughing, he sent the kid on his way without a ticket.
Life after death
Do you believe in life after death?" the boss asked one of his employees. "Yes sir," the employee replied.
"Well, then, that makes everything just fine," the boss went on. "After you left early yesterday to go to your grandmother's funeral, she stopped in to see you."
Cheating
A blonde suspects her boyfriend of cheating on her, so she goes out and buys a gun.
She goes to his apartment unexpectedly and when she opens the door she finds him in a compromising position with a redhead. Well, the blonde is really angry. She opens her purse to take out the gun, and as she does so she is overcome with grief. She takes the gun and puts it to her head. The boyfriend yells, "No, honey, don't do it."
The blonde replies, "Shut up, you're next."
Culled from the Net by Sunil Sharma