Sunday, September 15, 2002, Chandigarh, India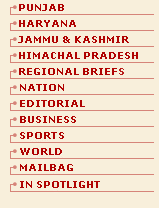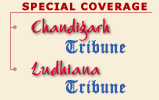 M A I N N E W S
J&K POLL
Omar talks of young leadership
Campaigning ends for first phase
Ashwini Bhatnagar
Tribune News Service
Srinagar, September 14
The campaigning for the first phase of elections to the Jammu and Kashmir Assembly closed this evening, with the National Conference President, Mr Omar Abdullah, declaring that the "tense election fight" is unprecedented in the annals of the state's history and the contestants that "you are looking at today will constitute the future political make-up of Kashmir over the next two decades."
Twentysix Assembly constituencies were scheduled to go to the polls on September 16. The election to the Lolab seat has been countermanded following the killing of NC candidate and Law Minister Mushtaq Ahmed Lone by militants on September 11. Candidates from Nobra and Leh have been returned unopposed. Polling, therefore, will be held for only 23 seats.
Intermittent rain dampened the spirit on the last day of campaigning that saw sporadic violence. Except for the killing of the Law Minister and three abortive attacks on the Industries Minister and the Tourism Minister, no other major incident took place despite fears that militants would launch major strikes during the first phase to derail the poll process. Similarly, people's participation in electioneering showed a major improvement over 1996, when the last elections were held, though the mood dampened a bit after Lone's killing.
The Director-General of Police, Mr A.K. Suri, underlined the security concern when he said though all arrangements had been made to ensure a free and secure atmosphere for polling, " a large number of fidayeens are still operating and incidents may take place." He said Pakistan-based sponsors of the militants had announced a "reward" of Rs 1 lakh for killing of candidates and the Bharatiya Republican Paksha four each, the Samajwadi Party three and Janata Dal (S) and CPI two each. The number of 69 independents is the highest in these constituencies, with maximum eight in Jammu West, followed by six in Jammu East, five in Gandhinagar and four in Zadibal constituency. The lowest number of one independent candidate each is in Sonawar, Khansaheb and Chrar-e-Sharief constituencies while two constituencies of Khanyar in Srinagar and Samba in Jammu do not have any independent candidates.
Of the 16 women candidates three are fielded by the Congress, two each by the NC and the Pradesh Samajwadi Party (Rashtriya), one each by the BJP, the PDP, the JKNPP, the Janata Dal (U) and the Lok Jana Shakti. There are also four independent women candidates in the fray.
Against the 263 candidates in the fray, there were 189 candidates in the 1996 elections in these Assembly constituencies. They included 112 from 13 segments of Jammu district, 49 in 10 segments of Srinagar district and 28 in five segments of Budgam district. Against this, Jammu district this time accounts for 164 candidates, Srinagar 70 and Budgam 29.